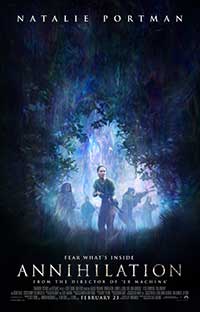 Annihilation is the story of Lena (Natalie Portman), a biologist who loses her husband, Kane (Oscar Isaac), on a top-secret mission, but he miraculously reappears one year later in her home. Having no memory of how he made it back home Kane falls ill and is transported away for care. He and Lena are intercepted by a shadowy government group headed by Dr. Ventress (Jennifer Jason Leigh).
Dr. Ventress does not have an answer to what Kane's condition could be, but she fills Lena in on the potential cause of it all. She informs Lena that a couple of years prior a meteor of unknown origin has crashed to earth and come straight down through lighthouse by a coastline. The impact has caused a prism bubble the perimeter that is expanding and causing disruptions. Various teams have been sent into the bubble but none have returned. Kane was part of an expedition that went in and never came back. Well, until came Kane back.
Ventress eventually asks Lena if she wants to join a new expedition comprised of women. Lena would be joined by a linguist, anthropologist, surveyor, and psychologist. Once the women go into the prism bubble they are shocked to discovered various distorted environmental patterns. The greenery seems to have been grafted to other organic materials that normally don't go together. The women eventually run into bigger threats like oversized animals that have their own natural characteristics but also have human characteristics. In one disturbing scene a bear, with some of its skin seared off shrieks like a human as it stalks the group.
Annihilation is filled with many instances of shock, violence, and body-horror. If you are sensitive to the latter then you have been warned. Some of the issues I had with the film was on how flat some of the characters' portrayals were. Lena seemed to be sleepwalking through most of it, although the point is made (or is it?) that she's her own worst enemy in some of the flashback scenes. Speaking of flashbacks there are quite a few of those stuck smack dab in the middle of some of the action, which is jarring. The ending of the film was also confusing but I will have to see it again to properly digest it. Annihilation is definitely not audience friendly. Yes, it will make you ask questions and most of those questions will not have answers. Another quirk that is briefly mentioned as to why an all women group was sent into the prism was that of strategy. Instead of sending a group of hostile men with guns why not send less hostile and highly educated women in, with guns? I don't believe that it was explicitly stated, but there may have been a line or two said by Dr. Ventress.
The lead up to Annihilation was interesting in that it was writer-director Alex Garland's critically and award-winning follow-up to his film Ex Machina. Not only did people want to see what he would come up with next after that science fiction film but things really spiraled out of control when Paramount sold international streaming rights to Netflix. There was also talk that Skydance producers had various disagreements with Garland about the film and especially about the ending. Garland had final cut on the film, so the producers that did not agree with him went around him. Now Annihilation is set for a release on 2,000 screens and this may or may not be a good thing in the week after the gargantuan release of Black Panther and Game Night. The latter was released in almost 4,000 screens, twice the amount that this film was.
The film is based on a trilogy of novels known as The Area X Trilogy (Annihilation, Authority, Acceptance) by James VanderMeer. It also appears that Garland adapted the script before there was even talk about a trilogy of books. Garland's script is more of a standalone story than anything. Annihilation doesn't look to do gangbusters business in the states, which is too bad, because it's a competently made film. I can also objectively see why the mainstream crowd will not like it. It's an existential science fiction film that does not run through the usual and generic tropes of science fiction. Having only seen the film once I will have to go back and reabsorb it. I have to rate the film down the middle. I did not love it, but I did not hate it. It has flourishes reminiscent of Under the Skin, Stalker, and Predator. Those are three great films, but Annihilation does not necessarily reach those levels.
Annihilation is in theaters now
DNA Films | Paramount Pictures | Scott Rudin Productions | Skydance Media
Studios & Distributors
R (for violence, bloody images, language and some sexuality)
Rating Certificate
Alex Garland | James VanderMeer (novel)
Writer
Summary
Natalie Portman plays a biologist who signs up for a dangerous and secret expedition in this latest sci-fi film from director Alex Garland (Ex Machina). It's a rich yet at times sparse thriller that likely will not appeal to traditional tastes. The film works best as an existential sci-fi thriller along the lines of Under the Skin.
What people say... Login to rate
Be the first to leave a review.
Show more