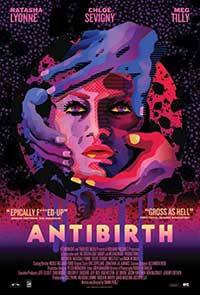 Antibirth, a 2016 Sundance Film Festival nominee, is aimed directly at an audience of rather mindless sci-fi/horror/B-film freaks who will go to any length to seek out the latest entry in this cinematic genre. Sadie (Chloe Sevigny) and Lou (Natasha Lyonne) are aimless stoners who spend their days recovering from wild nights with their drug-dealing buddies Gabriel (Mark Webber) and Warren (Maxwell McCabe-Lokos). The two men maintain a thriving "pharmaceutical" business and harbor Trish (Marie-Josee Dionne) whose disfigured face was a result of their latest drug concoction. In addition, Gabriel has been "trading" young women to a shady character Issac (Neville Edwards) for new drugs. After an epic hallucinogenic party, Lou awakens in her late father's rundown trailer on the outskirts of a lonely Michigan community near the local Marine base. She soon suspects that she might be pregnant (although she denies having had sex in more than a year) because of the strange symptoms that she is now experiencing.
While cleaning motel rooms, Lou has some pretty disturbing visions and, after passing out, she is revived by one of the motel guests, an eccentric older woman, Lorna (Meg Tilly). After her pregnancy test turns positive, Lou experiences peeling skin, blistering feet, and the loss of some teeth.
Lorna visits the now very-pregnant Lou in her trailer and relates the complicated story of how she might have had an "alien" encounter during her military service. As Lorna's twisted tale of abduction unfolds during which she experienced mind and body control, the younger woman continues to contend with her increasing bouts of pregnancy complaints, although she still clings to the belief, in spite of her condition and positive urine test, that she cannot be pregnant. Sadie, Lorna, and Lou revisit the scene of the frenzied evening that preceded Lou's pregnancy. Lou has a flashback of receiving one of Gabriel's experimental drug that was billed as a "supplemental hormone for women." Mercifully, Antibirth lurches onward to its bizarre and ultra-kitschy sci-fi finale.
Revisiting the film world's quite forgettable psychedelic era of the 1970s (think Head or Psych-Out), cinematographer Rudolf Blahacek periodically superimposes garish color montages with blurry images, vintage televisions broadcasting old shows, and random Americana family scenes. The "special" effects, such as they are, revive memories of Roger Corman's hokey low-budget sci-fi films that screened at numerous drive-in theaters and that were ignored by carloads of randy teenagers, engaged in the pursuit of other pleasures. Given the strongly cast trio of women who drive Antibirth forward, it is difficult to understand why they were given and obviously accepted such a dreadful script. Although viewers are not given any outtakes or deleted scenes, it is easy to imagine Sevigny, Lyonne and Tilly yucking it up in their cast trailers between shoots and then trying to maintain their game faces in front of the cameras. While Antibirth is a largely forgettable foray into sci-fi/horror, hardy souls still interested in checking this one out can find it streaming on Netflix. Blu-ray and DVD versions will become available on April 10, 2017.
[amazon_auto_links id="98550"] [a[amazon_auto_links id="98551"]!--RWP Review-->
Traverse Media | IFC Midnight
Studios & Distributors
Australia MA+15
Rating Certificate
2 Sept. 2016 (limited) | 27 Mar. 2017 (UK VOD) | 10 Apr. 2017 (UK DVD)
Release Date
Summary
A rather dreary effort to recreate the low-budget sci-fi/horror films of yesteryear that finds its strong cast of women principals dragged down by a dreadful script.
What people say... Login to rate
Be the first to leave a review.
Show more