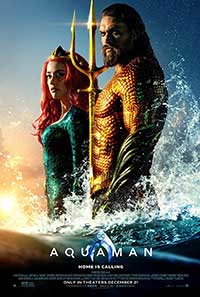 The DC Universe added another superhero to its stable when hulking Hawaiian actor Jason Momoa assumed the role of Aquaman in 2016's Batman vs. Superman: Dawn of Justice and, the following year, in Justice League. What was missing from these two films was the fulll story of how Arthur Curry actually became the tattooed amphibious heir to the lost kingdom of Atlantis, an issue that is now addressed with the release of Aquaman.
The film opens at a Maine lighthouse as its keeper Tom Curry (Temeura Morrison) rescues an unconscious Princess Atlanna (Nicole Kidman) from a raging storm. After she recovers, the couple fall in love and have a son Arthur who is gifted with the ability to communicate with sea creatures. For reasons of royal protocol, Atlanna is compelled to enter into an arranged and loveless marriage, and must return to the massive sunken kingdom of Atlantis.  Her trusty advisor Nuidis Vulko (Willem Dafoe) periodically visits the young Arthur and trains him in the art of combat as well as to adapt to underwater living.
Years pass, and the adult Arthur (Momoa) intervenes in the hijacking of a Russian nuclear submarine but in the ensuing battle, pirate leader Jesse Kane (Michael Beach) is killed while his son David/Black Manta (Yahya Abdul-Mateen II) survives and his revenge-driven mission against Aquaman will occupy him for the remainder of the film. Back in Atlantis, Orm (Patrick Wilson), Arthur's half-brother and ruler of the kingdom, prepares to attack those living on land. Allied with King Nereus (Dolph Lundgren) whose daughter Mera (Amber Heard) is Orm's fiancée, the young ruler proceeds to recruit other watery kingdoms to his side. The grouped undersea forces deliver worldwide messages that include the wholesale destruction of ships, and the washing ashore of massive amounts of pollutants that our land-dwellers have tossed into the oceans. Periodic newsflashes hint at the involvement of Atlanteans particularly those by oceanographer Dr. Steven Shin (Randall Park) who has long been obsessed with proving that Atlantis really exists.
Mera leaves home, tracks down Arthur and, with Vulko's support, convinces him to find the mystical Trident of Atlan that belonged to Atlantis's first ruler and to become the rightful heir to the throne. Of course, Arthur must first contend with Orm who was also responsible for Atlanna's death when she was exiled to the deadly Trench. Mera saves Arthur's life as the couple goes on a far-reaching search for the Trident that eventually will lead them to the Sahara Desert, Sicily, and, hopefully, the center of the Earth where the powerful artifact is hidden.
Nothing will come easy for Arthur and Mera, as there are epic battles, huge sea monsters, and sudden twists of fortune that make for two-plus hours of the high-octane excitement that we have come to expect from DC Universe films.  Aside from the often campy dialogue that characterizes the Aquaman-Mera verbal exchanges (this is hardly a dialogue-driven film), the super strength of this movie comes from some truly astonishing cinematography, an amalgamation of Don Burgess's camera crew's efforts flawlessly blended with a bevy of CGI effects. The result will make viewers believe that living under water is as natural as life on dry ground and that Mera's magical gestures are as real as anything else  that they see on the screen.
Okay, the chemistry between Amber Heard and Jason Momoa is clearly contrived and, in spite of their 11th hour lip lock, I always felt there was an emotional distance that was never adequately bridged. The under-utilized big-name stars Nicole Kidman and Willem Dafoe still manage to shine in the relatively few moments that they are given. All things considered, this remains an entertaining film that will divert its audiences for a couple of hours and the broad hints at a sequel in the end-credits suggest that there will be another installment in the Aquaman franchise.  Highly recommended.  
Aquaman is in wide release in theaters December 21, 2018 (USA)
---
Warner Brothers Pictures | DC Films | The Safran Company | Cruel and Unusual FIlms
Studios & Distributors
PG-13 (for sequences of sci-fi violence and action and some language)
Rating Certificate
English | Spanish
Language
David Leslie Johnson-McGoldrick (screenplay by) | Will Beall (screenplay & story by) | Geoff Johns (story by) | James Wan (story by)
Writer
Summary
DC Universe brings back its water-drenched warrior Aquaman in the story of his origins as Arthur Curry who engages in a quest for the subterranean kingdom of Atlantis.
What people say... Login to rate
Be the first to leave a review.
Show more