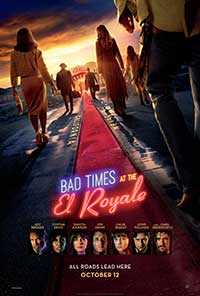 Like this Bad Times at the El Royale's principal characters, the titular hotel also harbors some dark secrets. The state line literally divides the property into "California" and "Nevada" sides but this once popular Lake Tahoe resort has been largely vacant since it lost its gaming license.
It is January 1969 and young desk clerk Miles Miller (Lewis Pullman) checks several strangers into the few hotel rooms still open: Father Daniel Flynn (Jeff Bridges), backup soul singer Darlene Sweet (Cynthia Erivo), armed outlaw Emily Summerspring (Dakota Johnson), and Seymour "Laramie" Sullivan, a vacuum cleaner salesman.  None of the new guests is what he or she first appear to be. Sullivan is FBI agent Dwight Broadbeck sent to recover a sex film possibly involving the late JFK. Father Flynn is recently paroled bank robber Dock O'Kelly whose late brother Felix (Nick Offerman) hid the money from their last caper in a room at the El Royale but his failing memory leads him to choose the wrong room. Sweet's singing career is failing while Summerspring has wheeled a sedated, gagged and bound young woman into her room. The captive turns out to be her sister Rose (Cailee Spaeny) whom she has "liberated" from a Manson-like cult led by Billy Lee (Chris Hemsworth).
Miles frequents the hotel's secret passage to make blackmail films through the one-way mirrors opening onto each room that will be sent to his anonymous "managers." Agent Broadbeck disables all the guests' cars so no one can make off with the hidden film and then breaks into Summerspring's room. This turns out to be a fatal mistake when Emily blows him away, as Darlene watches helplessly through the room's open door. Miles who has been eavesdropping from the passage gets his face peppered with some of the buckshot that downed Broadbeck.
Earlier that evening Father Flynn had tried to drug Darlene and get access to her room where he believes his loot is actually hidden. Darlene saw him add drugs to her drink and cold-cocked the fake priest with a wine bottle. Eventually the pair agrees to search for the money which they will then share.
The literal temperature of Bad Times at the El Royale gets turned up several degrees, when Billy Lee and his armed followers arrive, after his "bride" Rose had called him with the hotel's location. The cult members hold Miles and the remaining guests prisoner as the film's final act becomes an unmitigated gore fest when it becomes unclear if anyone will survive this very dark and stormy night at the El Royale.
Bad Times at the El Royale is an apparent attempt by writer/director Drew Goddard (The Cabin in the Woods, The Martian) to channel the vibe of Quentin Tarantino's The Hateful Eight. The frequent time shifts presenting some of the characters' backstories give fits and starts to the film's first half while the apocalyptic finale seem rather hastily concocted.  Goddard got a decent cast but only Bridges and Erivo get well realized characters. Johnson continues her run of bland female personas dating back to the Fifty Shades trilogy, Hemsworth's main contribution is appearing shirtless, and Spaeny is a dialogue-free "Lolita" wannabee. The real find in the supporting cast is Pullman's affecting portrayal of a Viet Nam veteran struggling with PTSD. The period-specific soundtrack, laden with 1960s soul music provided welcome breaks from this film's gloom-and-doom moments. There are some arresting visuals like the extensive shots of dead American and Vietnamese soldiers in the jungle but, overall, there is excessive dependence on gratuitous and graphic violence to drive the storyline forward. Bad Times fell well short of my expectations given its creator's recent strong track record.  Curious viewers who feel obligated to see this neo-noir flick would be best advised to wait until this film reaches the pay-per-view market.
Bad Times at the El Royale is in theaters October 12, 2018 in the USA
Twentieth Century Fox
Studios & Distributors
R (for strong violence, language, some drug content, and brief nudity)
Rating Certificate
Summary
Seven strangers, each with their own dark past, meet on a particularly fateful night at the dilapidated El Royale Hotel in Lake Tahoe. A dark neo-noir that has a decent cast (Jeff Daniels, Jon Hamm, and Dakota Johnson among others) but comes up short in the script and direction departments.
What people say... Login to rate
Be the first to leave a review.
Show more