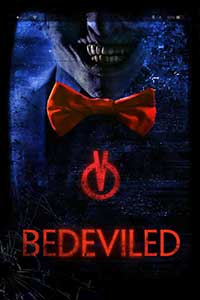 Bedeviled is a teen horror film that first made the rounds at the horror festivals like ScreamFest in 2016. This Millennial horror/thriller from writers/directors Abel and Burlee Vang (Nyab Siab Zoo) homes in on all the tropes of modern society that we have seen in films like Unfriended and the recent reboot of IT.
After their friend dies in a strange and mysterious way, a group of teenage friends receive an invite on all of their phones to download an app that they all believe is just a cool, ultra-intelligent personal assistant akin to Siri or Alexa that will help them organize their lives, find movie times and places to eat. The app turns out to be much more sinister – it begins to torment each of the friends, manifesting their unique fears. One of the teens is afraid of clowns, so a creepy, violent, evil clown begins to appear before him. One teen, a black male, is afraid of police officers, so the app manifests as violent cops – and so on. In effect, it is trying to scare the teens to death, just as it did with their friend.
Bedeviled is a definite miss. The idea seems interesting, but the execution is way off. If the Vangs were trying to make a statement about the dangers of our connected world, our constant reliance on our digital devices and the ills of social media, then they are a bit on-the-nose with their social commentary. But that is the least of this film's problems.
We have an assembly of flat characters we never care about because there is no exposition or character building. Each of these teens seems taken right out of a playbook of what a group of good-looking teens in a horror film should be – black kid? Check. Asian kid? Check. Two fashion model-looking white girls? Check. Two generic white men? Check.
Then there's the story – Bedeviled could be any other horror film out there – Scream, Unfriended, IT. It relies on so many horror tropes and jump scares that it becomes repetitive and cliché. When you can predict that the elderly woman in a room is going to turn into a maniacal, demon-like creature and attack the main character or cop is going to turn around and become the evil entity, this is a problem.
Like Scream in the 1990s, Bedeviled is obviously aimed directly at the teen market and it goes heavy on what might put the fear into that demographic, like a demonic smart phone app – it sounds good on paper, but it's not well executed and is ultimately uninspired and not horrifying.
Bedeviled is hitting VOD in the UK on September 17, 2018 and is currently available in the USA
[amazon_link asins='B01NBKG2GE' template='ProductAd' store='theaterbyte-21′ marketplace='UK' link_id='2963a093-b1fc-11e8-8e12-07cdfd58b86c']
[amazon_link asins='B074MHKHMZ' template='ProductCarousel' store='theaterbyte-20′ marketplace='US' link_id='35c35aae-b1fc-11e8-887d-e12a262ffa78′]