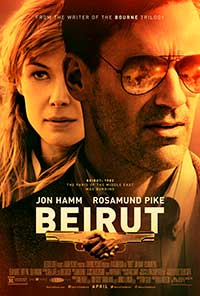 John Debney's intoxicating Middle East-inflected score introduces us to 1972 Beirut where Jon Hamm does an about face from his Mad Men persona as he portrays career diplomat Mason Skiles. Mason seems to have it all, living in an international city with a dicey balance between Muslims, Christians, the Palestinian Liberation Organization (PLO), and its neighbors Syria and Israel. He and his beautiful wife Nadia (Leila Bekhti) are throwing a lavish cocktail party for visiting US dignitaries when fellow diplomat Cal Riley (Mark Pellegrino) gives him some bad news: Karim, a young Palestinian boy taken in by the Skiles family, is the brother of wanted terrorist Rafik Abou Rajal (Mohamed Attougui). Mason is ordered to turn the boy over to the CIA for questioning when Rafik and his gang crash the party, abduct Karim, and, during the chaos that follows, Nadia is murdered.
Ten years later, a chronically depressed Mason has a small labor-negotiating firm and a serious drinking problem. The American embassy in Beirut reaches out to him, ostensibly to be a last minute fill-in for a lecture on international negotiation at the American University. Agent Bernard Teppler (Jonny Coyne) drives Skiles to a hotel and, several shots of bourbon later, CIA Agent Sandy Crowder (Rosamund Pike) escorts him to a reception held by an old friend, Ambassador Frank Shalen (Larry Pine).  Mason discovers that his real mission is to effect a hostage release. Cal has been kidnapped by a terrorist cell led by Karim who wants his brother released in exchange for the diplomat's life. The wheels are quickly set in motion with State Department officials Donald Gaines (Dean Norris) and Gary Ruzak (Shea Whigham) calling the shots to further their personal agendas. With memories of his past life in this troubled city, Mason sees the assignment as an opportunity to exorcise some personal demons, but times have changed and making things right will not be an easy assignment. Agent Crowder chauffeurs Skiles around a devastated Beirut in order to seal the deal but as most good espionage dramas go, this is only the beginning of a twisted tail of treachery that promises to end badly for all involved.
Better known for his extensive television work, director Brad Anderson does a masterful job of realizing veteran screenwriter Tony Gilroy's (The Bourne Legacy) suspenseful script. From the opening attack on Skiles's home to the tension-packed confrontation in a bombed out no-man's land at the finale, the dramatic arc reaches a crescendo that will leaves audiences breathless. Jon Hamm is a consummate actor who can effortlessly shift his gears from comedies to serious dramas.  He and equally accomplished co-star Rosamund Pike carry this film well beyond the realm of just another run-of-the-mill spy-thriller and, ably assisted by their supporting cast, make Beirut a great watch.  The film's often unfavorable portrayal of the indigenous Arab population has been criticized but, in all fairness, there is a less than sterling depiction of the self-serving members of the American Foreign Service. Given the current situation in the Middle East, it is disappointing that little has changed in four decades, making Beirut as relevant today as it was during the film's original era. Highly recommended.
Beirut is in theaters April 11, 2018
Bleeker Street Films | Radar Pictures | ShivHans Pictures
Studios & Distributors
R (language, violence, nude image)
Rating Certificate
Summary
A tense spy-thriller that creates a realistic tale of war-torn Beirut in the 1970s and 1980s, better known for his extensive television work, director Brad Anderson does a masterful job of realizing veteran screenwriter Tony Gilroy's (The Bourne Legacy) suspenseful script. Beirut stars Jon Hamm and Rosamund Pike.
What people say... Login to rate
Be the first to leave a review.
Show more