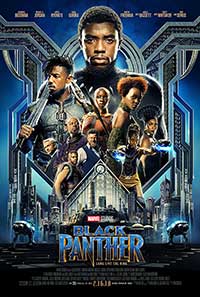 We first got a glimpse of Black Panther in Captain America: Civil War and now the time has come for the character to get his own movie. The film stars Chadwick Boseman as the title character. Coming along for the ride are a few familiar faces like: Michael B. Jordan, Angela Bassett, Andy Serkis, Martin Freeman, Forest Whitaker, Luptia Nyong'o, and Daniel Kaluuya. It's definitely a packed house.
Black Panther establishes the most valuable mineral on the planet: vibranium. A meteorite of alien origins hits the Earth in what would be the future continent of Africa and its inhabitants create their own civilization out of it. This involves warring tribes and a hierarchy system. The nation of Wakanda is eventually formed out of this chaotic system revolving around vibranium.
The film picks up shortly after the events in Civil War as T'Challa/Black Panther (Boseman) heads back to Wakanda to be crowned king. The ceremonies and pleasantries are cut short as Klaue (Serkis) resurfaces.T'Challa and company head over to South Korea to stop him from selling vibranium weapons on the black market. This ensnares operative Everett Ross (Freeman) and the mission escalates into a pretty amazing fight in an underground casino in the outskirts of Busan. There is one amazing tracking shot in this scene that brought the house down. Soon thereafter Eric Killmonger (Jordan) appears to foil Black Panther and the team. Killmonger has ulterior motives of his own, as well.
There is a reason that this film has taken two years to hit cinemas. It is an expansive film to say the least. It's full of characters, details, over two-hour running time, etc. On a visual and immersive level, the film succeeds in spades. Funny enough we have Andy Serkis and Martin Freeman in the film (Gollum and Bilbo Baggins) and due to the scope of the film – there were certain scenes reminiscent of Middle-Earth. The production design and cinematography need to be celebrated.
As far as story, content, and social issues go the film does a terrific job of highlighting issues — some issues are still prevalent in society and the film touches on a few without being preachy. As far as characterizations go I guess I'm so used to seeing Boseman as the nobleman that when Killmonger is introduced it gets hard to get used to Jordan acting like a street-type-wiseass. There's an awkward tonal shift that doesn't always work with his character. Killmonger is awesome, though, and his motivations are definitely grounded.
Being that the film is also set up as an origin tale for the character there are many scenes involving the structure of the people and society of Wakanda. Shuri (Letitia Wright) is one of the standouts in the film — she is T'Challa's younger sister and acts as his Quartermaster (Q from James Bond) and steals just about every scene that she is in with her humor and baddassery. The female guard of Wakanda are also a force to be reckoned with — just watch out for those giant spears.
As I previously mentioned before, there is a lot to see, experience, and discover in Black Panther — one may not catch it all in one sitting. As usual, stay after the movie for mid and after credit sequences that will lead us into Infinity War. Yes, this is the final film in the MCU before Infinity War opens up in May.
Black Panther is in theaters February 16, 2018.
Marvel Studios | Walt Disney Pictures
Studios & Distributors
Rated PG-13 (for prolonged sequences of action violence, and a brief rude gesture)
Rating Certificate
Ryan Coogler | Joe Robert Cole
Writer
Summary
Following the events of Captain America: Civil War, T'Challa/Black Panther (Chadwick Boseman) returns home to his technologically advanced African nation Wakanda to claim the throne upon the death of his father only to find his claimed challenged by unexpected factions within the country. Black Panther is an expansive film that may require a second viewing to absorb all the details of its epic scope. Outside of a few tonal character shifts it also makes for one of the better entries in the Marvel Cinematic Universe.
What people say... Login to rate
Be the first to leave a review.
Show more