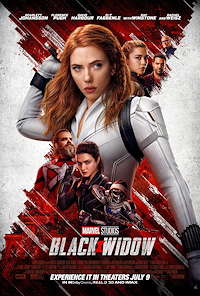 Scarlett Johansson has assumed the role of Natasha Romanoff/Black Widow undercover S.H.I.E.L.D. agent in six previous Marvel Universe Avengers films but now gets top billing in this backstory/final resolution of the Black Widow saga that has been sitting in film canisters since the pandemic closed the movie theaters. Viewers should be aware that this is the Black Widow origin film that antedates Romanoff's becoming an Avenger.
In 1995, Russian undercover agents, Alexei Shostakov/Red Guardian (David Harbour) and Black Widow Melina Vostokoff (Rachel Weisz) assume the roles of parents for their adopted daughters Natasha Romanoff and Yelena Belova (Florence Pugh). Once Alexei has obtained a disc containing S.H.I.E.L.D. intelligence, he takes his "family" to Russia-friendly Cuba. There they meet General Dreykov (Ray Winstone) who sends the girls away to the Red Room where they will be turned into mind-controlled assassins known as Widows. Alexei is imprisoned in Russia and Melina goes a Russian farmhouse containing a secret Red Room laboratory where she developed the mind-control agents.
Twenty years later, Romanoff has been deployed as a Widow but defects to the S.H.I.E.L.D and becomes one of their agents.  After bombing Dreykov's office, apparently killing him and his daughter Antonia, she gets put on the US government's most-wanted list. Meanwhile, Yelena is living in Europe and, after killing a Widow, has accidentally gotten exposed to Red Dust that freed her from the Red Room's mind control.  Natasha , now on the run, has received samples of the Red Dust from her sister and narrowly avoids being done in by Taskmaster (Olga Kurylenko), actually Antonia Dreykov, who, like her father survived the bombing but had a chip placed in her brain to make her an invincible soldier. Natasha and Yelena reunite in Budapest. After a sisterly duel to a draw, they escape from a troop of Widows that invaded Yelena's apartment. With the help of Rick Mason (O-T Fagbenle), the pair gets a helicopter and frees Alexei from prison. They go on to meet Melina who reveals their location to a very much alive Dreykov whose agents take the four to the aerial base station that is home to the Red Room.  What ensues is a series of battles to the death that involve Natasha, Yelena, Melina, and Alexei against Dreykov and his Red Room forces that, if successful, will liberate the Widows that are stationed all over the world.
Unlike the numerous Avengers films, Black Widow does not rely extensively on heroes with super powers to propel the storyline forward. I found this to be advantageous as the absence of larger-than-life characters puts a touch of humanity into the story as Black Widow lets viewers watch how enterprising men and women manage to contend with extraordinary circumstances. If, as suggested by a scene in the end credits, this was to be Scarlett Johansson's last Marvel Universe film, she goes out in a figurative blaze of glory. But the real star here is young Florence Pugh as the little sister with a so-so Russian accent and a wry sense of humor who covers all the bases and, in many ways, is the most interesting member of the cast. David Harbour becomes a convincing robust tattoo-laden battler who also injects some lighter moments into a mostly dark tale while Rachel Weisz demonstrates her chameleon-like ability to become any character that scriptwriter Eric Pearson (Thor: Ragnarok) wants her to portray. The supporting performance by Ray Winstone as the boo-hiss villain adds yet another stratum of strength to one of the best Marvel Universe films that I have had the pleasure of watching over the past decade. Black Widow delivers the entertainment goods and will keep you glued to the big or small screen for a bit over two hours. Highly recommended.
Black Widow is now being screened in theaters and is streaming on demand on Disney+ with Premiere Access for a fee of $29.99.
---
Rating Certificate: PG-13 (for intense sequences of violence/action, some language and thematic material)
Studios & Distributors: Marvel Studios | Truenorth Productions | Walt Disney Studios Motion Pictures
Country: USA
Language: English
Run Time: 134 Mins.
Aspect Ratio: 2.39:1
Director: Cate Shortland
Written By: Eric Pearson
Release Date: 9 July 2021