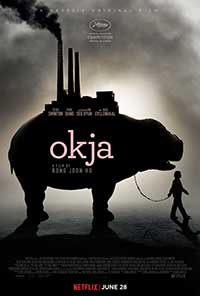 Lucy Mirando (Tilda Swinton) takes over the agro-giant Mirando Corporation from twin sister Nancy (also Swinton) and announces a major change in their business model.  An unusually large pig has been discovered, presumably a spontaneous mutation, and its offspring have been distributed worldwide to Mirando farmers  to develop the biggest pig on the planet. Wacky veterinarian Johnny Wilcox (Jake Gyllenhaal), the has-been Animal Magic television host and now just another Mirando shill, will judge the Super Pig Fest finals to be held in a mere 10 years!
A decade passes quite quickly in filmdom and, arriving in South Korea, we see a truly massive pig (think hippopotamus big), Okja, cared for by young Mija (Ahn Seo-Hyun) who lives humbly in the mountains with her grandfather Hee-bong (Byun Hee-bong). Mundo Park (Yoon Je-Moon) brings them into contact with the Animal Magic film crew and a wheezing Dr. Wilcox who is blown away by Okja's sheer size. Hee-bong bribes Mija with a gold ceremonial pig to make her forget that her beloved Okja has been sent to the Mirando headquarters in America to receive the Super Pig award.
The resourceful little Mija robs her piggy bank and heads for the Seoul Mirando offices just in time to see Okja loaded onto a transport truck. Not to be deterred, the little girl miraculously catches up with the truck that is then hijacked by the Animal Liberation Front (ALF, get it?): Jay (Paul Dano), K (Steven Yeun), Blond (Daniel Henshall), Red (Lily Collins), and Silver (Devon Bostick). Okja and Mija temporarily escape the truck and the huge pig wreaks havoc on the road and subway station.  ALF remains in hot pursuit and coaxes Okja back into their truck. Jay reveals the Mirando corporate secrets to Mija about how Okja was really created and the company's ultimate plans for the big pig. To expose this company's evil doings, the ALF will facilitate Okja's transport to New York and gather video evidence from inside the company laboratory from the recording device hidden in her ear. If everything goes according to plan, Okja will be returned to South Korea and her human family.
Back in New York, Lucy, aided by her little office troll, Jennifer (Shirley Henderson), has a brilliant idea: bring Mija to corporate headquarters, reunite her with Okja, and become the new face of Mirando in a massive public gathering and parade. If this plan were to go smoothly (which, of course, it does not), there would have been no need to interject Lucy's hard-hearted twin sister Nancy into the goings-on or much of the other stage business that burdens the film's second act.
Human-animal love stories are the stuff of which classic Disney films were once made but Okja's TV-MA rating is there for reasons that include an incredibly brutal slaughterhouse scene and language issuing from the twin sisters' mouths that would make a sailor blush. In essence, Okja is really three films that never quite coalesce. It careens from heartwarming drama to off-kilter dark comedy to yet another ham-fisted message about the environmental evils of genetically modified organisms. In spite of the thankless roles assigned to Swinton as Cruella de Vil cartoon cutout sisters and to Gyllenhaal as a bizarre Johnny Depp-like lamebrain, the only reason to even consider this mess of a movie is the absolutely amazing performance delivered by 13-year-old Korean actor Ahn Seo-Hyun. Okja owes its great visuals to ARRIRAW (3.4K, 6.5K) source formats mastered in 4K but, beyond that,  like its initial self-produced offering War Machine, it is clear that this network still has much to learn about the art of feature-length filmmaking. Okja is now available for viewing on Netflix and available in both Ultra HD 4K and HDR10 and Dolby Vision high dynamic range formats.
Kate Street Picture Company, Lewis Pictures, Plan B Entertainment, Netflix
Studios & Distributors
TV-MA (Language, Violence)
Rating Certificate
Summary
This feature-length film from Bong Joon-ho and Netflix features an amazing young Korean actor, some good CGI, and very little else.
What people say... Login to rate
Be the first to leave a review.
Show more