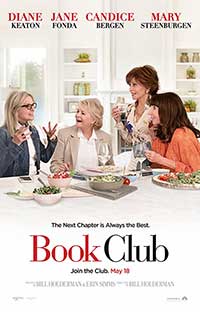 Book Club brings together four screen legends, all seniors ranging in age from sixty-five to eighty, who live in Los Angeles and whose lifelong friendship revolves around a monthly discussion of recently read books. Diane (Diane Keaton) is a widow whose two married daughters Jill (Alicia Silverstone) and Adrianne (Katie Aselton) are very concerned about her wellbeing and are trying to convince her to move in with them in Phoenix. Vivian (Jane Fonda) is a hard-charging hotel owner who has not had a meaningful relationship since she broke up with boyfriend, New York radio personality Arthur (Don Johnson), forty years ago. Federal judge Sharon (Candice Bergen) has been divorced from husband Tom (Ed Begley, Jr.) for two decades while successful chef Carol (Mary Steenbergen) finds that her husband Bruce (Craig T. Nelson) has gone into a post-retirement funk.
Vivian decides to spice up their reading material with Fifty Shades of Grey. Romantic interludes begin to crop up like wildflowers when a divorced Arthur re-enters Vivian's life as a guest in her hotel, wealthy airline pilot Mitchell (Andy Garcia) meets Diane on a flight to Phoenix, and Sharon signs up for "Bumble," an online dating service. Meanwhile, Carol tries to put some pizzazz back into her marriage by signing Bruce up for dance lessons so that they can compete in a charity dance contest.
If everything went according to plan, Book Club would have been over in the first thirty minutes, but you already know that this will not happen.  While Diane and Mitchell gradually take their relationship to the next level, Vivian resists Arthur's continual blandishments, and Sharon meets some unprepossessing older men like retired accountant George (Richard Dreyfuss) and diminutive physician "Dr. Derrick" (Wallace Shaun).  Carol vainly attempts to stoke Bruce's fires down below by secretly adding Viagra to his beer, a move that results in some hilarious unintended consequences.
If Fifty Shades (the women read the entire series) got the party started, keeping the vibe going is more challenging with characters their age, as they find themselves in often-awkward situations, like Sharon's attending her son's engagement party hosted by her ex-Tom and his bimbo fiancée Cheryl (Mircea Monroe) or Diane's daughters calling the police to find their mother only to find her in Mitchell's swimming pool at his Sedona hacienda.
Writer/director Bill Holderman and co-writer Erin Simms have given this stellar cast a fairly predictable script that is surmounted by the awesome chemistry that these four women generate on the big screen.  If the men get the second fiddle treatment, that is fine since in the world of geriatric sex they are mostly appendages anyway. If you liked the humor of The First Wives' Club (also starring Diane Keaton), the Book Club will be right up your alley. There were more outright laugh lines in the first hour of this film than I have heard in many a moon and the nearly all-female audience in my local theater was rolling in the aisles by the end credits.
Book Club is in theaters May 18, 2018
Apartment Story | June Pictures | Paramount Pictures
Studios & Distributors
PG-13 (for sex-related material and language)
Rating Certificate
Bill Holderman | Erin Simms
Writer
Summary
Four lifelong friends in the twilight of their lives begin to find a new spark in their love lives after reading the S&M literary sensation Fifty Shades of Gray. Book Club is a delightful rom-com with a stellar female cast that treats the rekindling of geriatric sex with humor and sensitivity.
What people say... Login to rate
Be the first to leave a review.
Show more