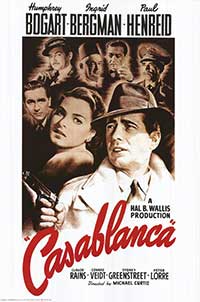 Casablanca is the is a 1942 film-noir directed by Michael Curtiz based on Murray Burnett and Joan Alison's stage play Every Body Comes to Rick's. In the film, the city is a fictional and exotic place in North Africa, a sort of neutral territory, where many affluent people flee from German-occupied France during World War II to get to the United States. Casablanca is also the place where two former lovers will meet again after a painful separation.
PLOT
In terms of script it a very good job was done by Julius Epstein, Philip Epstein and Howard Koch in adapting the unproduced stage play and in giving the viewer a true sense of the Nazi occupation and in the delivery of the anti-war message. We see a combination of everyday families or couples seeking a better and safer life on another continent and people who are desperate waiting to be redeemed in Casablanca, as getting asylum was not an easy task at all and there was always some priority order. At the same time, we see the romantic entanglements and how difficult it was for women of the era to cope with this on an emotional level, as nothing can be taken for granted. Sometimes the plot was a little slower than it should have been there were moments when I felt that they weren't very convincing, as if they tried so much to create tension and feeling of despair and madness out of nowhere sometimes or just an exaggeration. This does not mean that it was not an amazing effort at highlighting the inhumane, corrupt, and disheartening conditions of the period.
CHARACTERS
Rick Blaine (played by Humphrey Bogart)
Rick is an enigmatic nightclub owner who is about to choose between romance and supporting revolution against Nazis, between leaving with his one true love and helping out in the anti-Nazi movements.
Ilsa Lund (played by Ingrid Bergman)
Laszlo's wife, a woman tormented by the insecurity of war. She does not love him the way he loves her, but she appears to appreciate the good things he does about her and she is always by his side to support him.
Victor Laszlo (played by Paul Henreid)
He is Ilsa's husband and in love with her and in charge of the movements inciting a resistance against Nazis. He appears to have caused a lot of trouble in them and he has endured a lot for his revolutionary actions against them, having been in a concentration camp in the past. It is urgent that he leave Casablanca as soon as possible, as he is considered a target, but it is very difficult to take two visas for himself and his wife to leave abroad, while at the same time he is not about to leave alone.
ACTING
Acting was strong in general and I enjoyed listening to the different accents of the multinational cast of the film. It actually represents the variety of people in terms of nationality who felt miserable around Europe because of war and wanted better life conditions for themselves (and their children). There is undoubted chemistry between Bogart and Bergman, whose performances were amazing. According to Roger Ebert, "she [Ingrid Bergman] paints his face with her eyes". I believe their chemistry is a strength of the movie and I really enjoyed watching their scenes together in the narrative past and in the moment when they meet again. I find it strange how Humphrey Bogart did not win an Oscar for his acting, but even stranger that Ingrid Bergman was not nominated at all.
DIRECTION/CINEMATOGRAPHY
In terms of cinematography the use of light is very important, as scenes like the one when Rick gets drunk and becomes almost mad because of the memories triggered by Ilsa's presence in his life again, are full of contrast and dark shadows, in contrast to scenes when they are portrayed happily in the past that are full of light. Also direction techniques seem to change and alternate demands on the feelings of the protagonists, such as in the scene where Rick and Ilsa appear to fight.
END
In my opinion, the ending was a little predictable, even though it had some unexpected suspense. To sum up, I think the film won Oscars in the wrong categories. I agree with the Best Picture win and Direction, but I think it would have been better if it got a win for the two leads in acting and Best Original Score.
Casablanca was originally released in theaters January 23, 1942 (USA)
---
Warner Bros.
Studios & Distributors
Michael Curtiz
Director(s)
Julius J. Epstein (screenplay) | Philip G. Epstein (screenplay) | Howard Koch (screenplay) | Murray Burnett (play) | Joan Alison (play) | Casey Robinson (uncredited)
Writer(s)
23 Jan. 1943 (USA)
Original Release Date
Summary
In an exotic locale in Morrocco during World War II in what is meant to be neutral territory, a nightclub owner (Humprey Bogart) must help protect an old lover and her husband from Nazis in this classic film-noir romance from Hollywood's golden era.
What people say... Login to rate
Be the first to leave a review.
Show more