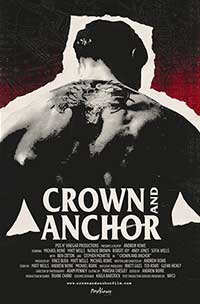 Crown and Anchor refers to the matching tattoos sported by two first cousins who have grown up apart from each other and are now adults that have pursued very different pathways. James Downey (Michael Rowe) has become a Toronto police officer with anger management issues that get him temporarily suspended. Cousin Danny Power (Matt Wells) is a drug addict who supports his growing habit by robbing small businesses. If the "sins of the fathers" had ever descended on their sons, this scriptural reference has become a terrible reality for James and Danny, both former victims of child abuse.
James, known to his friends and family as "Jimmy," gets a call that his mother Rose Power has died. He returns to St. Johns, Newfoundland to arrange for her funeral only to find that cousin Danny already had her cremated. Eight years earlier, James even put his own father Gus (Stephen McHattie) in jail for killing an abusive priest and then assumed his mother's maiden name before moving to Toronto. Uncle Doug Downey (Robert Joy) suggests that James should help Danny get clean before he destroys a family that includes James's former girlfriend Jessica (Natalie Brown), now Danny's wife, and their children, Travis (Alexander Wilson) and Sarah (Sofia Wells).
Danny continues to snort cocaine that he is supposed to sell for local drug dealer Charlie (Ben Cotton), a trade that he undertook after getting axed from his warehouse job. James visits his old friend and mentor Detective John Woods (Andy Jones) who reveals the identity and location of Danny's employer and gives him a police service revolver "just in case."  James begins to settle his mother's estate, but he has a brutal confrontation with his Danny and beats the crap out of his cousin. Danny recovers and when he returns to Charlie's bar without the anticipated drug money, Charlie warns him of dire consequences unless he can recruit his son to help him deal drugs to high school students. In a final attempt to exorcise his lifelong personal daemons, James pays a visit to his father who is serving a life sentence in prison. Their final scene demonstrates the hard feelings that are still simmering between the two men and will only end when one of them is dead.
Driven by a pulsating punk rock score and with over-the-shoulder camera shots that draw the audience completely into the action, Crown and Anchor has been quite well received at some high-profile film festivals. Writer/director Andrew Rowe took the draft written by his brother Michael (making his film debut) and co-star Matt and crafted a script that makes them both credible and compelling characters. As an ultra-dark film that is laced throughout with profanity, this is never an easy watch and certainly not film fare for the faint of heart. To its credit, Crown and Anchor tackles some of the most difficult subjects affecting contemporary society—drug addiction, child abuse, and violent crime—and does so in a forthright manner.  Highly recommended.
Crown and Anchor received a limited theatrical release on September 12, 2018
Piss N' Vinegar Productions
Studios & Distributors
Andrew Rowe | Michael Rowe | Matt Wells
Writer
Summary
A dysfunctional family works its way through drug addiction, violent crime, and child abuse, as this indie film makes a bold statement by its director/scriptwriter and committed cast.
What people say... Login to rate
Be the first to leave a review.
Show more