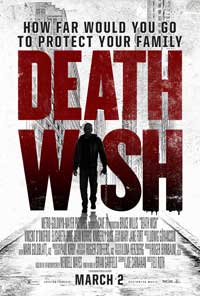 When new films are released, timing can be everything. In this respect, the 2018 remake of the 1974 classic urban vigilante drama, Death Wish, gets caught between the recent school shooting in Florida and the ongoing slaughter of the innocents in Chicago where this film is set. There are some noteworthy differences between the  versions as Paul Kersey (Bruce Willis) becomes a trauma surgeon instead of an architect and lives in Chicago rather than in New York.
The Kersey family seems to have everything going for it: a handsome suburban home, a successful physician, a beautiful wife Lucy (Elizabeth Shue), and an intelligent college-bound daughter Jordan (Camila Morrone). Paul's brother Frank (Vincent D'Onofrio), chronically broke, unemployed and owner of a police rap sheet, shows up as a dramatic foil and eventual ally. Kersey's ideal life permanently changes when three masked men, Knox (Beau Knapp), Joe (Ronny Gene Blevins) and Karp "The Fish" (Jack Kesy) break into the Kersey's home while Paul is hard at work in the hospital. The caper takes a wrong turn as Lucy is fatally wounded while Jordan becomes comatose after she is savagely beaten.  Chicago Police Detectives Kevin Raines (Dean Norris) and Leonore Jackson (Kimberly Elise) are assigned to the case but when no leads are forthcoming, Kersey takes matters into his own hands.
After a brief self-training period with a Glock taken from a dying ER patient, Dr. Kersey roams the streets as a vigilante who takes out carjackers and drug dealers. The media now call Paul "The Grim Reaper," as he seeks out the robbers' identities and, at considerable risk to his own life, goes on a mission to put them down.
Bruce Willis has made a career out of playing badass tough guys who manage to overcome all odds and survive. In spite of his 62 years, Willis is fit and quite credible as the citizen-hero that brings a smattering of justice to Chicago's crime-ridden South Side. A different take from what Charles Bronson brought to this role 44 years ago in the original Death Wish, Willis' approach seems equally valid.  With the exception of Willis's Paul Kersey, the remaining dramatis personae receive rather slim character development but this film is less about characters and more about the action on the screen. After rewatching the original version, I was struck by its rather cheesy production values that are clearly bettered by this newer film's tauter script, better pacing, and more striking visuals. There are some telegraphed-in-advance gimmicks like the errant bowling ball that saves Kersey's bacon but you  expect such things  in a neo-noir film. You are also required to suspend belief when it comes to Kersey's rapidly improving weapons skills but this was also an issue in the original version.
It seems that many of today's crime films are laden with graphic violence and brutality and this new Death Wish is no exception. The real question for audiences is whether there remains a place for such films in the entertainment world, particularly in the highly charged climate of gun control debates and mass shootings.  Like many filmgoers, I enter a movie theater expecting to be entertained and diverted from real-world issues that will reappear after I leave the premises. I found Death Wish to adequately fill that bill for me, knowing full well that its subject will probably discourage many film fans from giving it a tumble.
Death Wish is in theaters in the US March 2, 2018
Cave 76 | Metro-Goldwyn-Mayer | Paramount Pictures
Studios & Distributors
R (for strong bloody violence and language)
Rating Certificate
Summary
After his family is attacked, successful Chicago surgeon Dr. Paul Kersey (Bruce Willis) hits the streets seeking his own form of vigilante justice in this successful remake of an urban vigilante classic that finds Bruce Willis assuming his iconic badass persona.
What people say... Login to rate
Be the first to leave a review.
Show more