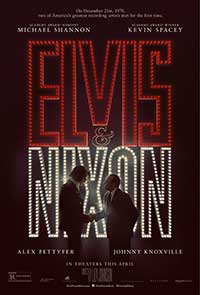 The most requested American photograph in the National Archives commemorates one of the most unusual meetings of all time. Two leading figures of their era, pop music icon Elvis Aaron Presley (Michael Shannon, Midnight Special) and President Richard Milhous Nixon (Kevin Spacey, American Beauty) went face to face on December 21, 1970 in the Oval Office. The very fact that such a meeting really took place stretches the boundaries of credibility that are stretched even further when the true purpose of this behind-closed-doors get together is revealed. Even more to the point, there were no taped accounts of this meeting as it preceded Nixon's paranoia-infused recording of every presidential encounter that began the following year.
The film opens with an unbridled Elvis shooting out the TVs in his man cave.  He then gets detained for trying to board a commercial plane while heavily armed on his quest to reach the president. In an unprecedented move, the singer used his huge celebrity to power through all of the proper channels and a very bumpy protocol road, run by Nixon's chief of staff, H.R. Haldemann (Tate Donovan), to access the President. While the film embellishes on the circumstances of this very private meeting, its backstory supposedly was fueled by the two years that Presley served as a well-publicized Army private. It was generally believed that this experience enhanced Elvis's patriotism and gave impetus to his desire to do something in the service of his country. As becomes evident during the verbal exchange between these two very different men, Presley had espoused mainstream conservative values that, in 1970, were reflected by an overt dislike of the counterculture of hippies, pop groups like The Beatles, and drugs that had burgeoned in the preceding decade. In a rather naïve and folksy manner, Presley eventually reveals his goal for meeting Nixon: to obtain the President's assistance in getting the singer an official Bureau of Narcotics and Dangerous Drugs badge so that he can go "undercover" as an "at large" secret federal agent. Given the drug-related events that eventually killed the singer at an early age, the ultimate irony of this exchange should not be lost on today's audiences.
During the hour and a half running time, we meet other Nixon-era characters, including Nixon's personal secretary Rose Mary Woods (Geraldine Singer), and some minor players, Presley assistant Sonny (Johnny Knoxville), PR aide Jerry Schilling (Alex Pettyfer), Deputy Assistant for Domestic Affairs Bud Krogh (Colin Hanks), and White House special assistant Dwight Chapin (Evan Peters). The screenplay by Joey Sagal (who appears briefly as an Elvis impersonator) and his ex-wife Hanala (who does a turn as Chapin' secretary Judy) dramatizes what most would have considered a pretty ho-hum and clearly awkward presidential moment. Compared to the magnitude of the well-known events that followed, highlighted by the Watergate scandal and Nixon's resignation, the storyline in Elvis & Nixon would seem like pretty small potatoes. Director Liza Johnson (Return) imbues the action, such as it is, with a deft combination of gravitas and humor (often intentional but occasionally not). Terry Stacey (Special Correspondents) gets his cameramen to provide a close and very realistic encounter between these two famous men. The real deal, as might be expected, is delivered by the en pointe performances of Spacey and Shannon. Although neither actor closely resembles his real-life counterpart, those of us familiar with the real characters that they portrayed should appreciate how much of the essence of the "King" and "Tricky Dickey" is revealed in Elvis & Nixon. It is particularly interesting to see how, after an awkward start, Presley wins over the rather stolid Nixon to his rather unorthodox point of view. A quirky flick that evoked some long-ago memories and, having no great expectations, I found this to be a very enjoyable return encounter with two of the biggest names of their era. Elvis & Nixon had a limited theatrical release in April 2016 and is now available via Amazon Prime Video streaming services.
Elvis & Nixon (TheaterByte Movie Review)
Amazon Studios/Bleeker Street Media
Studios & Distributors
R (language)
Rating Certificate
Joey Sagal, Hanala Sagal, Cary Elwes
Writer
22 April 2016 (limited)
Release Date
Summary
A quirky film that mixes history with humor and shows two of the most powerful men of their era in an improbable close encounter.
What people say... Login to rate
Be the first to leave a review.
Show more