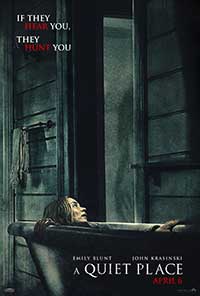 A Quiet Place, it is the near-distant future and the Earth's remaining survivors are plagued by creatures who hunt their human prey by detecting sound. Those that are unfortunate enough to be alive during these events have set up several systems to keep themselves and their families safe and alive from the creatures.
Lee (John Krasinski) and Evelyn Abbott (Emily Blunt) have their young children in tow and have to do everything in their power to stay alive and carry on. Time, the elements, and general curiosity are their biggest enemies against these unseen creatures who move at breakneck speeds and can tune in to the most minute sound.
A Quiet Place had curious promotional materials when it was getting ready to be released in theaters a few months ago. There were parts of the trailer that bugged me and thought that I would take a "wait and see" approach before catching it at the theater. Then the early reviews came in and they were all positive. It's currently at 96% via Rotten Tomatoes. Co-writer, director, and actor John Krasinski may be familiar to fans from his performance on TV's The Office a few years ago. A Quiet Place is a complete 180-degree departure from everything he has ever done. Never mind that he's also directing his co-star and wife, Emily Blunt, as well.
The film says just enough in its brief 90-minutes with credits running time to fill you in on what may have happened on Earth and why these things are on a rampage. That being said, try not to look for explanations in the absolute. It is a very self-contained little creature-feature. The film also has amazing sound and creature design. The more I think of it, the full creature design does have a creepy and gross edge to it from a purely visceral level. Thinking about the biology of the creatures makes my skin crawl.
I was blessed in having seen the film at a screening where the audience behaved themselves and didn't talk throughout the long stretches of scenes without dialogue or sound. The child-actors were also great and did great in conveying their fear. A Quiet Place is rated PG-13 but there are several scenes involving violence towards children — Millicent Simmonds is a standout. Gore is kept at a minimum, but mostly implied with the "loud" sound design of bodies being ripped to shreds.
A Quiet Place did very well during its opening weekend on what looks to have been a low to moderate budget. I would totally be down for a sequel, but only if Krasinski came back to co-write and direct the film. He can bring Emily Blunt, too. Like 2017, it seems that 2018 is the new year of breakout horror films by actors with a more comedy-film driven background. Last year it was Jordan Peele with Get Out. Even funny men have darkness within themselves that needs to be channeled outward. As a film fan, bring it on! A Quiet Place is highly recommended!
A Quiet Place is in theaters April 6, 2018
Platinum Dunes | Sunday Night | Paramount Pictures
Studios & Distributors
PG-13 (for terror and some bloody images)
Rating Certificate
Bryan Woods | Scott Beck | John Krasinski
Writer
Summary
In this dystopian horror/thriller starring Emily Blunt and John Krasinski, a family is forced to live their life in silence as they hide out from mysterious creatures that hunt by sound. The film says just enough in its brief 90-minutes with credits running time to fill you in on what may have happened on Earth and why these things are on a rampage. Just try not to make too much noise if you go to a screening of this film.
What people say... Login to rate
Be the first to leave a review.
Show more