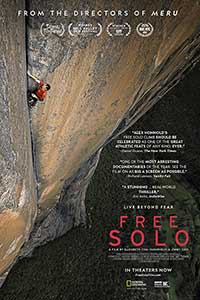 For the many that missed this Oscar-winning documentary, Free Solo, because, let's face it, documentaries do not have the big-screen drawing power of standard feature-length movies, the National Geographic Network has generously provided this film in a commercial-free airing.  For viewers who are unacquainted with this highly dangerous sport, "free solo" refers to the act of climbing rock formations, unaided by any tools or rock-scaling accessories, and performed alone.
Free Solo "stars" climber-extraordinaire Alex Honnold who has been attracted to climbing since childhood when his late father used to take him and his family to Yosemite National Park and behold its natural wonders, including the famous peak, appropriately named "El Capitan," and affectionately known as "El Cap." As Alex begins preparations for the most dangerous free climb in the world, he reconnoiters the ascent with professional climber Tommy Caldwell and director Jimmy Chin. At 3200 feet high, El Cap has been a legend for more than six decades when it took a team of climbers 46 days to reach the summit. Even with lots of equipment, the challenge of scaling this rock formation is daunting; without the equipment, it is life-threatening.
A half an hour into the film, we get an "in memoriam" that pays tribute to previous climbers who died during their attempts to scale the rocks. We then get into Alex's recovery from a sprained ankle that could have sidelined him for months but through sheer will and determination, he is back on the mountains in a few weeks. As the film proceeds, we get Alex's life story, beginning with his middle school "geek" years to his eventual climbing progress and prowess. He hooks up with girlfriend Sanni McCandless who "takes up little room in my van" and she becomes part of what little support system this lonely sportsman really has. Sanni's sunny disposition provides much of what modest heart-warming appeal this film contains as Alex has little personality of his own.
Next there is the step-by-step documentation of the "choreography" that Alex developed through each of the named points along the way, like the "Enduro" or "Freeblast Slab." As we follow the course of events leading up to the epic climb, there are the usual obstacles but for those who already know this story these only minor distractions on the road to personal triumph.
What is absolutely unique about this film is that through the relative calmness of its storyline, there is some truly death-defying footage captured by director/cinematographer Jimmy Chin and his colleague Mikey Schaefer that brings viewers into close contact with the perilous nature of free climbing. Bob Eisenhardt's film editing crew must get due credit for weaving together a visual narrative about a single individual who through sheer dint of effort achieves a goal unparalleled in the world of documentary films. The natural vistas afforded by the cameras draw you into the experience of climbing the sheer face of rock formations with no obvious hand-holds or foot-holds and the wonderment that one human being can actually do it. Free Solo is a documentary for all time and an absolute must-see whether or not you are a rock-climbing aficionado. Highest recommendation.
Free Solo is now available for viewing NatGeo and VOD
amzn_assoc_tracking_id = "theaterbyte-20";
amzn_assoc_ad_mode = "manual";
amzn_assoc_ad_type = "smart";
amzn_assoc_marketplace = "amazon";
amzn_assoc_region = "US";
amzn_assoc_design = "enhanced_links";
amzn_assoc_asins = "B07HM95Q4L";
amzn_assoc_placement = "adunit";
amzn_assoc_linkid = "463857e1a5487612e07151031f0a7cf6";
//z-na.amazon-adsystem.com/widgets/onejs?MarketPlace=US
---
Little Monster Films | National Geographic | Parks+ MacDonald Image Nation, National Geographic Documentary Films
Studios & Distributors
Jimmy Chin | Elisabeth Chai Vasarhelyi
Director
14 December 2018 (UK)
Release Date
Summary
The National Geographic Network presents a commercial-free Oscar-winning documentary of one of the greatest sports achievements of all time: the solo unaided ascent to Yosemite's El Capitan peak by a fearless climber.
What people say... Login to rate
Be the first to leave a review.
Show more