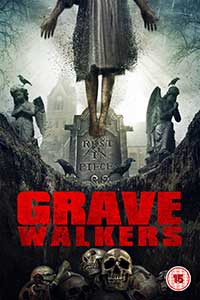 From the opening credits' smoldering devil's head, we can probably guess what kind of film Grave Walkers will be. As if that were not enough of a hint, a quote by Martin Luther next appears: "For where God built a church, there the Devil would also build a chapel"
In a small college town Deputy Hancock pulls up to the Copeland's gated mansion where a Halloween party is in progress. After a sudden power outage, the deputy enters the house and finds it strewn with dead bodies wearing devil masks as well a mysterious naked woman whom she arrests on the spot. Sheriff Pete (Vladmir Kulitch) has taken two young men into custody who happen to be on the FBI's most wanted list but are just shy of the top ten, Mister 11 (Ed Ricker) and Mister 12 (Carter). When Hancock brings in her prisoner, a boozy Pete goes ballistic thinking that she is his evil dead father and he has to be restrained by deputies Sam (Vincent M. Ward) and Eric (J. Richey Nash) each seeing her as a different criminal. Dispatcher Sharon (Karen Wheeling Reynolds) contributes to the confusion by seeing yet another criminal face. It becomes clear that there is some form of demonic possession happening as those affected have flashing lights instead of eyes.
Pete, Hancock, and Sharon go to the University so Archaeology Professor George (Ira David Wood III) can examine an old box found at the Copeland mansion. George finds a bone whistle, a bell, and a card containing the above-mentioned Martin Luther quotation. When Dean Wilburn (Tim Ross) rings the bell, the previously black and white picture changes to full color (shades of Wizard of Oz) and ash begins to fall from the sky. Meanwhile back at the morgue, the medical examiner (Rob Rainbolt III) is arguing with his mother on the phone when several bodies with light-emitting eyes rise from the slab and leave the hospital. At the same time, corpses with, you guessed it, flashing green eyes emerge from their graves and begin to make their move to engage the local pastor (Tony Todd) who will invoke the exorcism ritual and free the rest of the dead.
Okay, if you haven't figured it out by now, this is yet another zombie flick but one with a very different slant from the usual "walking dead" fare as these living dead creatures can ride motorcycles, fire rocket-propelled grenades, use sniper rifles, and can't easily be killed (hey, they're already dead!). To add further to the melee, there is another group of "red-eyed" critters that get into the fray while Pete, Eric, Hancock, Really Rosie (Raven Whisnant), and FBI agent Campbell (Frank Saverino) prepare to fight the zombies to the death.
Shades of Shaun of the Dead, this is a campy blend of horror and comedy to a fare-thee-well. With a storyline and dialogue style that hearkens back to the Roger Corman School of "don't take us too seriously" point of view, this is a 21st century effort to return to the B-film shockers of the 1950s and 1960s. Grave Walkers will also recall the drive-in movies that baby boomers flocked to see (or not see) in their large tail-finned cars with bench seats that could squeeze in six to eight teenagers. All told, writer/director Ari Kirschenbaum (Fabled) and cinematographer Russ de Jong (Farhope Tower) give us an entertaining, if uneven watch that seems to go in multiple directions at the same time.
Grave Walkers initially made the rounds at horror film festivals in 2015 and is now gearing up for release on VOD and DVD in the UK, where it will be available starting 26th September 2016 (VOD) and 3rd October 2016 (DVD).
Grave Walkers (TheaterByte Movie Review)
Solo Media/Matchbox Films
Studios & Distributors
28 September 2016 (UK VOD)
Release Date
Summary
A retro-style horror-thriller that resembles the drive-in fare of the 1950s and 1960s and will certainly amuse today's viewers.
What people say... Login to rate
Be the first to leave a review.
Show more