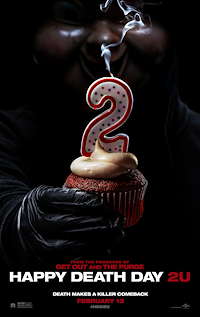 One of the standout hits of 2017 was the very cool indie-horror-comedy hit Happy Death Day. Now, less than two years later we have the follow-up sequel: Happy Death Day 2U. Happy Death Day 2U still stars the beautiful and incomparable Jessica Rothe as our favorite protagonist who still seems to cursed to live the same day and her death over and over and over again. How does this film shake it up from the first? Read on and find out, true believers!
Tree Gelbman (Jessica Rothe) just can't catch a break from dying over and over. Even after stopping her killer in the first film there's another killer on the loose that is not only still killing her, but is also killing some of her friends and family in the process. Tree is also reliving some of the same events to the letter from the first film. So how is Happy Death Day 2U different from the first? Well, in this film it is set up that the cause of Tree's time loop is a device called "Sissy," which has the ability to transport her back to the day of her death, but before she is actually killed. The gnarly creation comes from Ryan (Phi Vu), who was the dude that walks in on Tree waking up from her death in the first film. Apparently, Ryan and his nerd friends are braniacs because they have literally created a time machine on campus. With their forces joined, they have to figure out how to stop the baby-masked serial killer that keeps on killing them.
The first film had it all. A great looking cast, phenomenal marketing materials, and the film rocked. Happy Death Day 2U continues that trend, with the only obvious shift that the sequel plays more as a science fiction comedy, with just a smidge of horror flourishes. It works in context but I can see how people will not adapt to the tone. Also, the first 20-minutes of the film sort of drag because it focuses on a totally different character that we have no relation to outside of the first film's few seconds he had of screen time. Basically, the opening drags until Tree becomes our focus once again.
The real saving grace of Happy Death Day 2U is Jessica Rothe – I had a smile on my face just about the entire time she was on screen. She's got excellent comedic timing and is believable as our strong yet vulnerable heroine. We want her to win and to kick some ass. Some peculiar things about this film that differentiate from the first, aside from its shift into science fiction, is the curious release strategy. The first Happy Death Day film cost US$5 million and some change to make and generated more than US$125 million and was considered a smash. It was also released in October of 2017. Happy Death Day 2U cost almost US$10 million to make and was released Valentine's Day week in February. Hopefully my own viewing experience doesn't dictate success, but there was only one other person at my screening Wednesday night. As good as the film is, I do not see it making anywhere near what the first film made on opening weekend or for its final tally.
With that being said, I wholeheartedly enjoyed Happy Death Day 2U and recommend the film. I would just temper your expectations a bit if you're expecting a straight up horror film like the first one. There are horror elements in the sequel, but it leans heavily towards science fiction. There's a mid-credit sequence, as well, so wait a few minutes before you leave the theater. Again, Jessica Rothe is a rock star, so just see it for her!
Happy Death Day 2U is in theaters February 13, 2019 (USA)
---
Blumhouse Productions | Digital Riot Media | Universal Pictures
Studios & Distributors
PG-13 (for violence, language, sexual material and thematic elements.)
Rating Certificate
Christopher Landon
Director
Summary
Tree Gelbman (Jessica Rothe) returns from her experience of dying over and over on the same day to find more horror, time loops, and hazards await in this sequel. Happy Death Day 2U is not as clever as the first film, but it is a worthy sequel to the franchise opener. They've set it up for a third film, so if they continue to keep their budgetary costs down, they'll continue to reap the return on investment of these films for many years to come.
What people say... Login to rate
Be the first to leave a review.
Show more