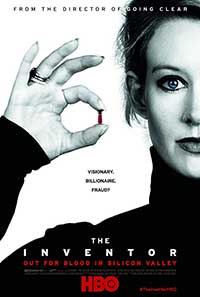 Writer/director Alex Gibney (The Looming Tower) begins The Inventor: Out For Blood in Silicon Valley  more than a decade ago when youthful entrepreneur Elizabeth Holmes attempted to change the field of disease detection with an analyzer requiring only a single drop of blood. Her company, Theranos, a name combining therapy and diagnosis, seemed to adopt Thomas A. Edison's time-honored approach of "fake it until you make it," a ploy that he used frequently when some of his highly touted inventions like incandescent bulbs were failures at first. Holmes dropped out of the Stanford School of Engineering and started a business that was eventually valued at nearly ten billion dollars. Forbes magazine recognized her as the youngest self-made billionaire in history, as Theranos seemed to flourish in the field of medical discovery.
Shortly after this film begins, we see how the "nanotainer," an innovative collection device designed to hold a tiny amount of blood, "works" with Theranos's analyzer, named the "Edison" after the selfsame "Wizard of Menlo Park." With her headquarters in Silicon Valley, this charismatic young CEO with unblinking eyes and an unusually low speaking voice styled Steve Jobs black turtleneck sweaters and became a Fortune magazine cover story. Theranos was seen as the harbinger of a new model for medical laboratories that would shake up this highly lucrative business. On the surface, it appeared that the Edison would offer an unprecedent means of running multiple tests on tiny blood samples at very low cost to patients. However, interviews with former employees revealed a high level of secrecy in the office that covered up the fact that the equipment did not function as intended and often failed.
Holmes recruits Dr. Channing Robertson, Dean of Stanford's School of Engineering, to become a member of her Theranos team and also convinces powerful men like George Shultz and Henry Kissinger to sit on her corporate board of directors. She also begins an aggressive fund-raising campaign and soon venture capitalists pour millions of dollars into the fledgling business. Working with President and Chief Operating Officer Sunny Balwani who is the company's cheerleader and Elizabeth's live-in companion, Theranos partners with the Walgreens Corporation to perform laboratory tests but these are originally done in the company laboratories using large venous blood samples and standard equipment rather than the Edison. This huge Walgreens deal does inject an influx of badly needed cash to keep Theranos going. The company's wheels start to go off the rails when its laboratories provide faulty test results raising serious quality concerns in the medical circles.
This HBO documentary film follows the investigative reporting by the Wall Street Journal's John Carreyrou that interviews former employees and the resulting story uncovers Theranos's fraudulent and downright dangerous practices, leading to its rapid downfall. At the time of the end credits, Elizabeth and Sunny were facing multiple counts of wire fraud that both have denied.
Gibney has crafted a skillful documentary that pulls no punches as it blows the lid off a massive scam that reduced Theranos's total worth to zero and eventually cost its investors millions of dollars. I have followed the Theranos saga from its beginning and knew that the company was seeking the holy grail of laboratory testing: the ability to reliably provide hundreds of diagnostic test results from a few drops of a patient's blood. While I had hoped that this company would succeed against considerable technical odds and  lower the cost of such tests, I also remembered the old business adage: if seems too good to be true, then it probably is. The Inventor is a cautionary tale well told and well worth watching. Highly recommended
The Inventor: Out For Blood In Silicon Valley is available now on the various HBO networks and streaming apps HBO Now and HBO GO 
---
HBO Documentary Films | Jigsaw Productions | Home Box Office
Studios & Distributors
TV-14 (drugs, language)
Rating Certificate
English | Spanish | Portuguese
Language
Summary
A no-holds-barred documentary that chronicles the rise and fall of a medical diagnostic company run by a charismatic young woman who soared to the heights of Fortune and Forbes magazines before an epic fall.
What people say... Login to rate
Be the first to leave a review.
Show more