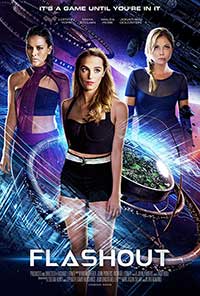 If the prospect of parallel universes or virtual realities excites you, then Flashout might just be your extraterrestrial cup of tea or whatever beverage picks up your pulse. The film opens with the "multiverse" reality Repairman (Jonathan Goldstein) emerging from his home on an Earth shrouded in a smog-filled atmosphere. He gets assigned to stop hackers from creating their own virtual reality game, "Intermate," that seems to be mucking up other universe coordinates. Pitchwoman Desa (Lorynn York) challenges subscribers to find their perfect mate on an Intermate-enabled blind date. Contestants play out their fantasies in these new micro-universes where they must distinguish virtual beings from real ones before these unreal habitats collapse in fractals. Because these parallel universe encounters are time-limited, the players have to specify the number of pairs involved as failure to do so could jeopardize their return to "real life."
Desa convinces best friends Iastar (Maya Stojan) and Lieva (Malea Rose) to join forces for a "quickie" with a virtual fourth player but their plans get derailed when the Repairman crashes the party. A sudden flash indicates a problem with virtual reality and puts the game in a "stuck" position, sending the three women to Earth. Desa ends up in a hotel lobby and literally runs into a traveling salesman (Dwayne Standridge) who thinks that she is the "escort" that he ordered. The couple experiences a "Flashout" moment in the salesman's room when fractals appear and the experience seems to have had a sexual impact on him. This is not lost on Karen (Alison Dunbar) who was to have been the salesman's "escort." She sees that Desa, Iastar, and Lieva have sexual prowess that she is more than willing to exploit. "Flashout" becomes the new hot thing and Desa, Iastar, and Lieva become the new hotties in the pay-for-play business.
The Repairman dials Karen's escort service and gets a "date" with Iastar but when he assaults her in his motel room, escort Angel (Vedette Lim) takes him down with a large dose of angel dust.  He gets taken to the County Mental ward but convinces Lieva to wheel him out, kicking off another series of misadventures for the three young women who are desperate to make it back to their "real" world.
Writer/director Richard Lerner has been in the movie business for over four decades, but his output has been limited to a handful of films with the best being a pair of Jack Kerouac documentaries. The not always comprehensible script will keep you off-balance, possibly trying to simulate the sensation of not knowing what universe you are in, and falls into the time-honored tradition of the B-films of the 1960s when outer (or inner) space cinema was all the rage at drive-in movie theaters. Fans of Mystery Science Theater 3000 might appreciate the basic format and premise of Flashout, while hardcore sci-fi junkies may be less than impressed by the somewhat hokey special effects and the overuse of the fractal device. As there is no profound message here and the characters are cardboard cutouts, if you have a hankering to "flashout" yourself, just leave your critical faculties at the door and focus on the film's occasional laugh-out-loud moments. At least you will be diverted from all the sturm und drang that passes for today's nightly news.
Flashout is now available on VOD (Amazon Prime Video, Apple iTunes, VUDU, Red Box, YouTube) and Blu-ray Disc
---
Flashpoint Films
Studios & Distributors
Richard Lerner | John Powers | Wayne Weber
Writer
Summary
Three women from a parallel universe pitch their mating game and must get back home when their game goes wrong in this ironically two-dimensional indie sci-fi comedy.
What people say... Login to rate
Be the first to leave a review.
Show more