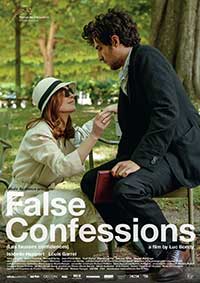 Based on a comedy of manners by 18th century French playwright Pierre de Marivaux, False Confessions  (Les fausses confidences) finds young and down at-the-heels Dorante (Lois Garrel) and his uncle M. Remy (Bernard Verley) entering a large townhouse. After Dorante sees the attractive wealthy widow Mme Araminte (Isabelle Huppert) practicing Tai Chi on her balcony,   Remy threatens Dorante with the loss of his inheritance if he does not pursue Arminte to better his station in life. The widow's mother Mme Argante (Bulle Ogier) takes an instant dislike to Dorante and there is a another snag.  Araminte is being wooed by Comte Dorimont (Jean-Pierre Malo) who is counting on their marriage to settle a lawsuit between the two of them.  Araminte is quite attracted to the younger man and hires him as her confidential secretary.
Dubois (Yves Jacques), Dorante's former valet, is the behind-the-scenes factotum who has his  finger in every pie that this plot has baked. He suggests to Dorante that he should  marry the young and beautiful Marton (Manon Combes), the much older Araminte's protégée. Marton is prepared to marry Dorante but he steadfastly refuses. As a distraction, Dubois informs Araminte that, because he is infatuated with her, Dorante has turned down numerous promising matches.  To get Dorante to reveal his true feelings about her, Araminte asks him to write a letter stating her acceptance of the Comte's marriage proposal.
Mme Argante continues her efforts to thwart any relationship between Dorante and her daughter. In the time-honored tradition of "the course of true love did never run smooth," this frothy comedy proceeds briskly to its dénouement and writer/director Bondy tosses in one final twist before the end credits start.
This contemporary recreation of a play that predates the French Revolution is generally quite successful. The cast is top drawer and the capture of contemporary Parisian culture is superb. This was famed director Luc Bondy's final film and, if nothing more than an case of style over substance, at least the style is tres elegant.  As an interesting side note, False Confessions was shot during a run of this play by this same cast at the Odeon Theater in Paris (we eventually  see shots of its stage and interior).
Isabelle Huppert has enjoyed a distinguished four-decade film career and,  judging from her performance in False Confessions, she would seem capable of continuing it in perpetuity. Another icon of French cinema, Bulle Ogier turns in an en pointe performance as Huppert's hypercritical dowager mother. At the other end of the age spectrum, Garrel and Combes hold their own against these veterans of the silver screen. While the age difference between Araminte and Dorante was considerably less in Marivaux's original play, there is a growing chemistry between 60-something Huppert and 30-something Garrel even if we remain uncertain whether he is more after her gold than her glamour. Cinematographer Luciano Tovoli gets his cameras in the right places at the right times and draws viewers into the intimacy of this puff pastry of a play. This film's concepts of class-consciousness, privilege, and marriage for money might seem a bit antiquated to 21st century audiences, but the essence of this classic French play is brought to life and will keep viewers both engaged and amused.
False Confessions will have a limited screening in US theaters appropriately enough on Bastille Day, July 14, 2017.
Idéale Audience | ARTE France | Big World Pictures
Studios & Distributors
Luc Bondy | Marie-Louise Bischofberger
Writer
14. Jul. 2017
Release Date
Summary
A delightful updating of Marivaux's 17th century comedy of manners with a strong cast and direction by the late Luc Bondy.
What people say... Login to rate
Be the first to leave a review.
Show more