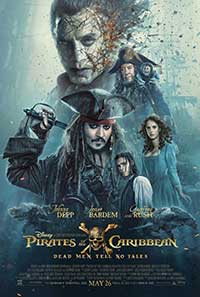 A wildly successful film franchise based on a Disney theme park ride, Pirates of the Caribbean returns with a fifth installment, Dead Men Tell No Tales, and brings back some previous cast members Johnny Depp (Captain Jack Sparrow), Geoffrey Rush (Captain Barbarossa) and Kevin McNally (Joshamee Gibbs) with cameo appearances by Keira Knightley (Elizabeth Swann) and Orlando Bloom (Will Turner). Fellow Norwegians Joachim Rønning and Espen Sandberg share the director's chair to bring Jeff Nathanson's script to life.
As a sequel to At World's End, the film opens with a young Henry Turner (Lewis McGowan) finding his father Will, imprisoned undersea in the Flying Dutchman. The theme of this film that unifies its multiple storylines is the characters' search for the mythical Trident of Poseidon that will lift the curses on Will and Spanish Captain Salazar (Javier Bardem), and resolve the lissome Carina Smyth's (Kaya Scodelario) unresolved questions about her father. The Trident will also confer upon its owner the mastery of the world's oceans.
A decade passes and Henry (Brenton Thwaites) becomes the sole survivor of a Royal Navy warship that is destroyed in the Devil's Triangle by Salazar's ghost ship. The spectral pirate spares Henry, as "dead men tell no tales," to inform Jack Sparrow that Salazar will avenge the earlier destruction of his ship and crew by a young Sparrow (Anthony de la Torre) in the selfsame Devil's Triangle.
Carina is imprisoned for witchcraft when it is discovered she has studied astronomy and horology, both terms fueling "insider" pirate jokes, and subjects forbidden to women. An intoxicated Sparrow is found with the governor's wife inside the huge safe at the bank of St. Martin. Henry and the crew of Jack's ship, the Dying Gull, help Sparrow and Carina narrowly escape their own executions. Carina shows Jack and Henry a celestial map to Poseidon's Trident as the quest begins to find a previously uncharted island. Salazar captures the pirate captain Barbossa and compels him to aid in the search for Jack Sparrow. Jack, Henry and Carina make it to the island of Hangman's Bay and gain temporary safety as Salazar and his crew cannot walk on dry land. Barbarossa helps Jack get his ship, the Black Pearl, out of its small bottle, into the sea, and capable of carrying a crew. The two captains join forces and with Carina's help find the mysterious island where they believe that the Trident is hidden. The plot races toward a spectacular finale where all is revealed and mysteries are resolved with a hint that another POTC film might be in the offing.
Trademarks of this seaworthy franchise are its frenetic pace, multiple storylines, secret backstories, and an unforgettable cast of characters. In the case of Dead Men Tell No Tales, we get massive battles at sea replete with boom-boom cannons, a spectral vessel with a CGI-created dead men crew, and some familiar and new characters like a prison-scene cameo by Paul McCartney as Sparrow's Uncle Jack. The ageless Johnny Depp returns as the off-kilter pirate who is even more off-kilter for most of this sequel. Paul Cameron does his first turn behind the cameras in the POTC series and delivers knockout visuals. Nathanson's script is chockfull of the campy dialogue that one has come to expect in this franchise. In the end, Dead Men Tell No Tales provides two hours of nonstop entertainment that will leave audiences nearly breathless and wanting more of the same.
Walt Disney Studios Motion Pictures | Jerry Bruckheimer Films
Studios & Distributors
PG-13 (adventure violence, suggestive contents)
Rating Certificate
Joachim Rønning | Espen Sandberg
Director
Summary
Another rowdy and action-packed installment to the Pirates of the Caribbean series that provides two hours of thrills and spills.
What people say... Login to rate
Be the first to leave a review.
Show more