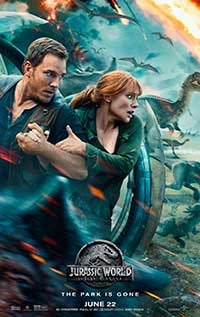 It has been twenty-five years since the Jurassic franchise debuted with its trail-blazing Jurassic Park and three years since its reboot Jurassic World first screened. Now Chris Pratt and Bryce Dallas Howard reprise their respective roles in Jurassic World: Fallen Kingdom as dinosaur trainer Owen Grady and former Jurassic World events manager Claire Dearing. Grady is building a house in the wilderness while Claire is now a "dinosaur rights" activist. Terminally ill Benjamin Lockwood (James Cromwell), co-developer of the dinosaur biotechnology, summons Claire to his massive California estate, and asks her to assemble a team for a return to Isla Nublar, the site of the defunct Jurassic World theme park. Mounting volcanic eruptions on the island will soon destroy the dinosaurs and their habitat and Lockwood wants to relocate as many of his creations as possible to a safer place.
Banking on their prior romantic backstory, Claire convinces Owen to join paleoveterinarian Zia Rodriguez (Daniella Pineda) and fraidy-cat system analyst Franklin Webb (Justice Smith) as they connect with a large group of mercenaries led by Ken Wheatley (Ted Levine). While their mission is to get the dinosaurs off Isla Nublar before the lava destroys everything in its path, Owen has an ulterior motive for coming back: a reunion with his pet velociraptor "Blue" whom he had trained to respond to his commands.
There is a dark subplot afoot in Jurassic World: Fallen Kingdom, as Sir Benjamin's assistant Eli Mills (Rafe Spall) has conspired with Gunnar Eversol (Toby Jones) to conduct an auction at the Lockwood estate where their rescued dinos will be sold to  international bidders who will then weaponize them. Offsetting Mills and Eversol's nefarious scheme is the adorable Maisie Lockword (Isabella Sermon), Benjamin's granddaughter. Maisie's mother died in an accident and the scientist has raised her with help from housekeeper/nanny Iris (Geraldine Chaplin). Maisie is fascinated with all things dinosaur and is unaware that below the museum displays in the great hall there is a secret laboratory run by Dr. Wu (B.D. Wong) where more genetically modified mischief is underway.
Jurassic World: Fallen Kingdom would not be a Jurassic Park picture without death-defying, high-tension narrow escapes from such threats as streams of molten lava, ferocious dinosaurs, and a host of bad guys working for Mr. Mills. Just when you think that Claire, Owen, Zia, and Franklin are goners, miracles happen, as the foursome continues their battle against the evil entrepreneurs who always seem to have the upper hand.
Bringing back principals Pratt and Howard, with brief appearances by B.D. Wong and Jeff Goldblum as the doomsday scientist Dr. Malcolm, suggested that Jurassic World's  scriptwriters Colin Treverrow and Derek Connolly had planned to create a sense of continuity with its predecessor.  This gambit fails to yield great dividends, as there is no theme park vibe to light up the surroundings and little light-hearted relief from this literally and figuratively much darker film. Copious violence, dismemberment, and destruction permeate the proceedings and give this film a well-deserved PG-13 rating.
The animatronics and CGI have rendered the dinosaurs as realistic as I have ever seen them and seamlessly integrate them into the numerous scenes that they dominate. However, I could have gotten by with shorter hand-to-claw combat scenes and lived without the over-done "endangered species" messaging. Blessed with an ARRIRAW (6.5K and 3.4K) source format and a potent Dolby Atmos soundtrack, this film will certainly attract and maintain viewers' undivided attention from beginning to end. On the other hand, what audiences will really receive is another popcorn  and candy munching affair that breaks no new ground. Given the popularity of these films, I have no doubt that there is still big money to be made at the box office. Jurassic World ended with Tyrannosaurus Rex surveying what remained on Isla Nublar after the management team and remaining guests had fled; an analogous scene at the conclusion of Fallen Kingdom foreshadows a third installment planned for theatrical release in 2021.
Jurassic World: Fallen Kingdom is in theaters June 22, 2018
Universal Pictures | Amblin Entertainment | The Kennedy-Marshall Company | Legendary Pictures
Studios & Distributors
PG-13 (for intense sequences of science-fiction violence and peril)
Rating Certificate
English | Spanish
Language
Derek Connolly | Colin Trevorrow
Writer
Summary
Owen and Claire (Chris Pratt, Bryce Dallas Howard) return to save the dinosaurs from extinction when a volcano erupts in the park in this sequel to the Jurassic reboot. A rather predictable sequel to Jurassic World that delivers great special effects, a so-so storyline, and another lead-in to the next film in the franchise.
What people say... Login to rate
Be the first to leave a review.
Show more