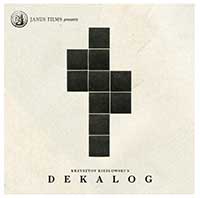 Famed Polish filmmaker Krzysztof Kieślowski (The Three Colors Trilogy) had a razor-sharp ability to probe into the human condition with films that were at the cutting edge of art-house cinema. Dekalog (The Decalogue) is a 1989 series of 10 hour-long movies made expressly for Polish television and the screening of their newly-restored versions mark the 20th anniversary of Kieślowski's death. Also known as "Dekalog: The Ten Commandments," Kieślowski and frequent collaborator Krzysztof Piesiewicz intended this collection as in depth studies of the hearts and minds of men and women who often shared the same Warsaw apartment complex. Each episode is inspired directly (or more often indirectly) by one of the ten commandments. While Kieślowski never identifies the commandment by name, they have been included in the brief synopses below.
Dekalog: One (I am the Lord thy God). Krzysztof (Henryk Baranowski), a language professor and computer enthusiast reaches a crisis of conscience as his fundamental beliefs come into question when his precocious 10-year-old son Pawel (Wojciech Klata) goes missing.
Dekalog: Two (Thou shalt not take the name of the Lord thy God in vain). Dorota (Krystyna Janda) tries to compel a doctor (Alexsander Bardini) to give her the exact prognosis of her gravely ill husband, Andrzej (Olgierd Lukaszewicz), so that she can decide the fate of her unborn child fathered by her lover, a fellow musician.
Dekalog: Three (Remember the Sabbath day, to keep it holy). On Christmas Eve, Janusz, a taxi driver (Daniel Olbrychski) encounters his former mistress Ewa (Maria Pakulnis), supposedly out searching for her husband. Should Janusz give up this holy day and help Ewa find him or should he stay home with his family?
Dekalog: Four (Honor thy father and thy mother). When 20-year old Anka (Adrianna Biedrzynksa) finds a sealed letter from her mother (who died in childbirth), it makes her question whether Michal (Janusz Gajos) with whom she has lived all of her life is really her father.
Dekalog: Five (Thou shalt not kill). Jacek Lazar (Miroslaw Baka), an aimless young man, is arrested for the senseless murder of a taxi driver. New lawyer Piotr (Krzysztof Globisz) is assigned to Jacek's defense and must reconcile the likelihood that his client will be executed with his moral opposition to the death penalty.
Dekalog: Six (Thou shalt not commit adultery). A young postal worker, Tomek (Olaf Lubaszenko) focuses his telescope daily on beautiful and older neighbor Magda (Grazyna Szapolowska), an artist with a very healthy sex life. After Tomek reveals his voyeurism to Magda, their relationship progresses, and the jaded woman gets an unanticipated lesson in life.
Dekalog: Seven (Thou shalt not steal). Majka's (Maja Barelowska) parents, Ewa (Anna Polony) and Stefan (Wladyslaw Kowalski), have raised the daughter that she had at age 16, Ania (Katarzyna Piwowarczyk). Six years later, Majka wants her daughter back but when Ewa refuses her request, she abducts Ania. As the young woman weighs her selfish impulses against her child's best interests, Majka must make a major decision: does she keep Ania or return her to the only parents that the little girl has known.
Dekalog: Eight (Thou shalt not bear false witness against thy neighbor). Zofia (Maria Koscialkowska), a professor of ethics, receives a visit from an American woman, Elzbieta (Teresa Marczewska) who harbors a dark secret: she is the Jewish girl who the professor refused to shelter from the Nazis during World War II. As Zofia recalls what happened four decades earlier, facts are revealed that may enable Elzbieta to forgive her betrayer.
Dekalog: Nine (Thou shalt not covet thy neighbor's wife). Surgeon Roman (Piotr Machalica) has become impotent and when he cannot satisfy his beautiful wife Hanka (Ewa Blaszczyk), he encourages her to take on lovers. A decision he soon regrets, the jealous doctor begins to spy on his wife as her pursuit of carnal pleasures threatens the stability of their marriage.
Dekalog: Ten (Thou shalt not covet thy neighbor's goods). Jerzy's (Jerzy Stuhr) and Artur's (Zbigniew Zamachowski) estranged father dies, and the brothers inherit an immensely valuable stamp collection that exposes them to the morally bankrupt side of philatelism. In this, the only humorous tale of the series, the brothers learn that the men who covet their father's collection will go to any extreme to obtain it for themselves.
This new digital transfer of Dekalog was sourced from the 35mm original camera negatives provided by Telewizja Polska. The restorations were supervised and approved, when possible, by the original cinematographers. Each episode has the 1980s television aspect ratio of 1.33:1. Although the color palette is not as vivid and the details not as sharp as seen in today's films, the cinematography is most compelling and draws viewers into the very essence of each subject being examined. The sound is unvarnished mono, clear enough for the dialogue and the atmospheric scores of Zbigniew Preisner. As for the casts, we are treated to some of the era's best Polish film actors who deliver stellar performances. This is an epic film series, and as expected, viewers will be challenged by Kieślowski's typically dark themes and unconventional characters.
The US theatrical run will open at the IFC Center in New York on September 2nd, at Cinefamily in Los Angeles on September 9th, and will receive a national roll out to more than twenty cities. The Blu-ray and DVD releases are scheduled for release on September 27th.
Krzysztof Kieślowski's Dekalog (TheaterByte Movie Review)
Janus films
Studios & Distributors
Polish (w/ English subs.)
Language
Krzysztof Kieslowski
Director
Krzysztof Kieslowski, Krzysztof Piesiewicz
Writer
2 September 2016
Release Date
Summary
Dekalog is an epic 10-episode series each of which takes its theme from one of the Ten Commandments and are presented in newly-restored versions courtesy of Janus Films.
What people say... Login to rate
Be the first to leave a review.
Show more