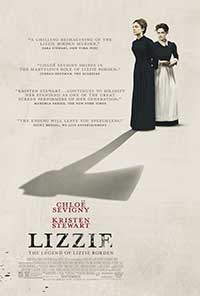 This is a new thriller starring Chloë Sevigny and Kristen Stewart that a retelling of the infamous Lizzie Borden murders of 1892. Sevigny plays Borden, who is from a wealthy family and seems to have it all in terms of being taken care of due to her family's status and all. She lives at home with her parents and older sister. Like her older, Emma (Kim Dickens), she is socially looked down upon due to being "past her prime." Yes, the film does live in archaic times and does not shy away from portraying these trying times in detail.
Kristen Stewart plays Bridget, who is to be called "Maggie" while employed by the Borden family. She tends to all the housekeeping and makes sure that the property and lend is seen to. She is an immigrant from Ireland and Lizzie's mother does not necessarily take to her, but Lizzie does.
As Lizzie's overbearing father continues his verbal assaults on the entire Borden family, Borden begins to seek solace and comfort with Bridget. She teaches Bridget how to read. Bridget's newfound literacy opens many doors for her, as she starts to enjoy books and letters even more. These sudden sparks of light are few and far between, because Lizzie's father is a piece of crap and begins to take liberties with Bridget. In his anger he also comes down hard on the rest of the family. He's an old and shrewd Luddite. The light bulb has already been invented by Thomas Edison but Mr. Borden still insists on lighting the home by candlelight, so as not to bring attention to the Borden household. During certain scenes, the Borden home looks quite scary since it's the only house on the street without any lights in these enlightened times.
Things begin to heat up and Lizzie cannot take anymore, and in fear of being sent away to an asylum, hatches a plane to take care of her parents. That last sentence isn't necessarily a spoiler, because if you know anything about the Borden case, well, you sort of already know what happens. Hint: it involves an axe.
I watched the film on a whim – it had a good trailer, and I was interested. Director Craig William Macneill, who directed The Boy in 2015, is assured in his efforts with Lizzie. I would not say the film is a traditional "slow burn" because there are never any shots that linger or "float around. I noticed that each time there was a character on screen that particular character would be either to the right or left side of the screen, with all of this negative space. It reminded me of a Jim Jarmusch film minus the tracking shots. The staging flows from one scene to the next in moderate succession. There is nothing slow or boring about Lizzie.
For the gore hounds there is plenty of blood and explicit violence spread throughout. I think Chloë Sevigny and Kristen Stewart shine in their roles here. Stewart gets bashed here and there but she's always been a good actress. Chloë has always been great, as well, ever since Kids. She also nurtured this project from the beginning with writer Bryce Kass – she is a producer on the film.
I do lament that the film has limited visibility due to the awkward marketing, although it's playing in two theaters in my city alone, but I highly recommend Lizzie. The film is playing in limited release right now – I'm not sure if it's going to go wide, so if you can get to it now, it will be time well spent.
Lizzie is in theaters September 14, 2018 (USA)
Powder Hound Pictures | Artina Films | Destro Films | Roadside Attractions
Studios & Distributors
R (for violence and grisly images, nudity, a scene of sexuality and some language)
Rating Certificate
Craig William Macneill
Director
14 Sep. 2018 (Limited Release)
Release Date
Summary
Lizzie focuses on the events leading up to the infamous Lizzie Borden murders. Chloë Sevigny and Kristen Stewart shine in their performances, as does director Chris William Macneill in his direction. Lizzie is currently playing in limited release and is highly recommended.
What people say... Login to rate
Be the first to leave a review.
Show more