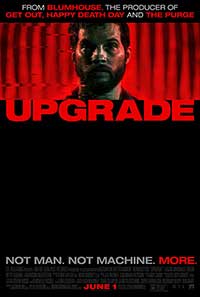 I remember being hyped up like you wouldn't believe earlier this year. There were two reasons why. The first was for Avengers: Infinity War and the second reason was for the film reviewed here. Upgrade is Leigh Whannell's second film as a full-fledged director after his successful stint on the even more successful Insidious: Chapter 3 installments. This film would be his first foray into some hardcore action-packed science fiction. I laid an egg, so to speak, when I first watched the red-band trailer for this film and quickly proceeded to watch the reaction video to it and I was not disappointed.
Upgrade is the story of Grey Trace (Logan Marshall-Green), a bit of a Luddite who spends his days, as far as I can tell restoring classic cars. In a world filled with self-driving autonomous cars, he still likes the feel of a stick shift and the curves of a muscle car. Speaking of curves, Grey is married to the beautiful Asha (Melanie Vallejo), who seems to be breadwinner at some high-tech firm she works for. She busts his chops for being stuck in his ways, though.
On one uneventful night, after delivering one of his restored muscle cars to client, the happy couple has an accident due to a malfunctioning self-driving vehicle. This leads to a deadly encounter with some armed thugs who kill Asha and render Grey a quadriplegic. The scenes of Grey in physical therapy and watching his mother care for him are quite gut-wrenching.
It is shortly after one of his sessions that he visited by the mysterious genius and creator of the STEM computer chip. In theory, once implanted, the chip takes over Grey and will make him walk again without the aid of external devices. Not only that, but as Grey later finds out, STEM also talks and gives Grey amazing fighting skills. In essence, Grey becomes the willing participant in an experiment, if successful, will change the face of health and artificial intelligence forever.
With the logistics out of the way, let me just say that I freakin' LOVED Upgrade! It's a full-on science fiction "cyborg" genre flick. You literally have people walking around with biomechanical limbs, innards, and weapon implants. I like how much of the gore, brutality, etc., was all created with practical special effects make-up. You hardly see that today with the advent of CGI. Even in the scenes of basic surgery to implant STEM you see the doctors cutting away, skin, tissue, fatty tissue, bone, etc., and it's all practical. Just wait until you see what Grey can do once STEM takes over. The crowd in the theater I saw the film with lost their collective minds during the action scenes. Never mind the brutal and graphic kills peppered throughout.
I have heard rumblings that the home video edition will contain an unrated cut, so I will be very anxious to purchase the Blu-ray of that when the time comes. I for one, will be seeing this in theaters again. Upgrade runs at a brisk 95 minutes, so you get a quite compelling story filled with the technology of tomorrow, and a solid performance by Logan Marshall-Green. For those that are not familiar with the guy – he's considered the "American" Tom Hardy due to similar features.
I'm in no hurry to compile my Top-10 list of the year yet since we're only halfway through 2018, but Upgrade has a solid shot at being one of my iconoclastic pics of the year the way things are going. The film is so much fun. I should warn parents that the previews emphasize action but be warned that the film depicts extremely graphic and brutal kills throughout. The "R" rating is definitely earned in this case. Upgrade was shot on a low enough budget that it may make its money back but it also did not open very wide. I do hope that word of mouth and the good reviews make people go and seek the film out, because it does deserve your undivided attention. Upgrade is highly recommended!
Upgrade is in theaters June 1, 2018
Blumhouse Productions | Goalpost Pictures | BH Tilt | OTL Releasing
Studios & Distributors
R (for strong violence, grisly images, and language)
Rating Certificate
Summary
In a near future where technology controls every aspect of people's lives, a technophobe named Grey (Logan Marshall-Green) turns to the ultimate technological upgrade -- a biologically implanted chip that help's him seek revenge after he suffers a tragedy. Upgrade was a lot of fun and features an inspired performance by Logan Marshall-Green. This film can get dark at points and is filled with great action sequences, gore, dynamic cinematography and sound design. One should definitely experience this popcorn thriller at a movie theater and then on home video. Highly recommended!
What people say... Login to rate
Be the first to leave a review.
Show more