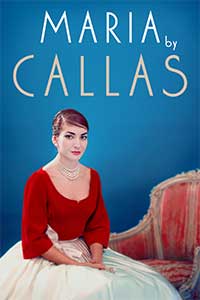 Maria by Callas is a documentary about the most iconic opera singer of the 20th century. The title itself implies that this story will be told through the perspective of a normal human who was catapulted into the life of international celebrity. Using material from her numerous interviews, live performances, personal correspondence, and memoirs, this film is clearly intended to give us an "insider's view" of an artist who made an indelible imprint on the music world and on the social scene of her era. Adding to the intimacy of this production, some of Callas's letters and diary entries are read by mezzo-soprano Joyce Di Donato.
Beginning with her childhood, the trajectory of the Callas life and career (they were inseparably intertwined) is covered through photos and film clips of her many live performances in the world's greatest opera houses. As might be expected from their provenance, the quality of the visual sources varies from crisp professional 35 mm films to amateurish 8 mm home movies, and blurry television segments, all of which contribute to a 360-degree picture of a performer who redefined the over-used term "diva."  There are also readings from letters that Maria frequently wrote to her beloved voice teacher Elvira de Hidalgo who remembered her as "obedient, a hard worker, perfect, intelligent…the first to arrive and the last to leave." Among the televised interviews are excerpts from those by famous hosts Edward R. Murrow and David Frost that show a composed woman handling everything that was dished out to her. We are also treated to some of Callas's signature arias including "Casta diva," "Vissi d'arte," and "Addio del passato," from Norma, Tosca, and La Traviata, respectively. Fashionistas will gush over the innumerable haute couture that the singer sports during the course of the film.
Devoted fans will find that the revelations about Callas's personal life ultimately provide the most interest. When she meets Aristotle "Aristo" Onassis in 1957, her ten-year marriage to the much-older Giovanni Battista Meneghini (who was also her manager) was already falling apart but it took a decade to finalize her divorce.  Her affair with  Onassis lasted until 1968 when he married the world's most eligible widow, Jacqueline Kennedy, an event that Callas sadly learned about through the media. After a few years, Onassis renewed his highly publicized love affair with Maria that only ended with his death.
In 1965, Maria Callas enters the twilight of her life, having exchanged the opera house for an upscale Paris apartment, and, confessing in letters that she feels burned out at the age of only forty-one. Ten years later, Callas embarks on what would be her final concert tour with  beloved colleague, tenor Giuseppe di Stefano. It is obvious that her voice was a mere shadow of its former self but this did not seem to matter to her adoring public.
The final  Blu-ray disc has two  extras:
LA film festival interview with the film creator Tom Volf (English Dolby Digital stereo) (13:36)
Angelika Film Center and Cafe Interview with narrator Joyce Di Donato (English Dolby Digital stereo) (18:47)
Maria Callas introduced me to my first live opera performance when, as a wide-eyed ten-year old, I saw her riveting Chicago Lyric Opera debut in the title role of Norma. Watching Maria by Callas brought this formative experience of my life rushing back and for that I am deeply grateful to director/creator Tom Volf and his production team who have carefully and lovingly curated the huge collection of Callas's words and images. I own every videodisc of the Callas legend that has ever been released and I can say unequivocally that Maria by Callas gets the closest of all to the essence of this remarkable woman. An absolutely must-see account of an artist who defined opera for her own as well as for future generations. Highest recommendation.
Maria by Callas is available on Digital, Blu-ray and DVD February 12, 2019  from Sony Pictures Home Entertainment

Purchase digitally on Vudu: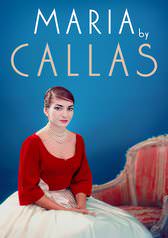 ---
Elephant Doc | Petit Dragon | Unbeldi Productions | France 3 Cinema | Sony Pictures Classics
Studios & Distributors
PG-13 (mild thematic elements, some smoking and brief language)
Rating Certificate
France | Polynesia
Country
English | French | Italian
Language
Summary
Writer/director Tom Volf has given viewers the most encompassing and intimate portrait of the most iconic opera singer of the 20th century in her own words, readings of her memoirs and letters, and unforgettable live performances culled from the huge archive of Maria Callas memorabilia.
What people say... Login to rate
Be the first to leave a review.
Show more