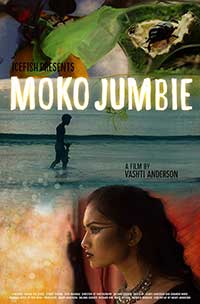 In Trinidad, the setting of Moko Jumbie, the title refers to a stilt walker, representing a spirit from the Central African tradition, that because of its great height could see far-off danger and protect the villagers from harm. Asha (Vanna Girod), a shy Indian girl, has moved  back home to Trinidad from the UK to reconnect with her family, Uncle Jaggesar (Dinesh Maharaj) and Aunt Mary (Sharda Maharaj) whom she has not seen in a long time. Life in Cedros, Trinidad is simple: the family lives in a modest apartment near an abandoned coconut plantation and ekes out a very modest living.
When Asha meets Roger (Jeremy Thomas), a young neighbor, there is an immediate attraction between them. Returning home from their first date, the couple is briefly accosted by a strange "devil" man. Later, Asha sees a figure on stilts, flapping his long arms and striding down the road.  Uncle Jaggesar later explains that this is the spirit of Moko, signifying the overlap of the supernatural world with the real one. Aunt Mary forbids Asha to see Roger whose family is of African not Indian origin and may be the no-account thieves who were responsible for the burglary of their home. Asha goes to Roger's house anyway and later that night experiences a sweat-soaked series of truly weird visions or were they actually some form of altered reality?
Asha and her cousin Sujata (Aryana Mohammed) go out for the evening on the town, only to be interrupted by sirens signaling an apparent government coup.  The next day, Uncle Jaggesar comes up to Asha on the beach while she is paring cassavas and gives her the backstory of her great-grandmother's emigration from India to Trinidad. Perhaps this was not Jaggesar at all, since when Aunt Mary suddenly finds Asha, she is by herself on an empty beach. The young woman decides to make Trinidad her permanent home, and undertakes the responsibility of making important decisions that will shape the rest of her life.
Trinidadian-American writer/director Vashti Anderson makes her feature-film debut with a storyline drawn from her grandmother's tales and her own experiences of having lived in Trinidad, the US, the UK, and India. This is an ambitious project by a clearly talented young woman that won best picture award at the MISAFF17 (Mosaic International South Asian Film Festival 17). Blessed with a strong cast and attractive young leads in Girod and Thomas, this forbidden love story has some promising plot devices like hints of multiple universes, the magical use of sweat-rice to snare a mate, and an uncle who may be from the spirit world that lack the requisite follow-through to make them fully realized. In spite of  camerawork that occasionally smacks of home movies technique, Anderson's initial cinematic venture is still enjoyable  and, hopefully, she will refine her craft over time.
Moko Jumbie will be available streaming from IndiePix Unlimited  and on Digital and DVD on February 12, 2019

---
Icefish | Indiepix
Studios & Distributors
Trinidad and Tobago
Country
Summary
A feature-film debut by a young filmmaker that tells the story of two young people who fall in love in Trinidad in spite of the differences in their backgrounds. There are some beginner's missteps in the script and camerawork but overall an enjoyable film that bodes well for Vashti Anderson's future in cinema.
What people say... Login to rate
Be the first to leave a review.
Show more