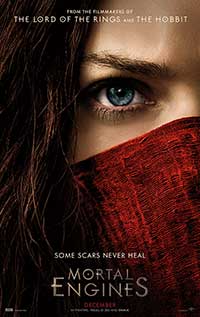 The science fiction genre has gotten some recent love in theaters this holiday season it seems. Mortal Engines is the latest big budget romp from Peter Jackson. Christian Rivers, a visual and storyboard artist for Jackson, makes his big screen feature film debut with this film, which is based on the YA series of novels by Philip Reeve.
After the Sixty Second War society and the world has crumbled. The surviving inhabitants rise from the ashes and create new societies and cities aboard moving vehicles that feature the namesake of the former city. The cities spend their time traveling across Europe "ingesting" smaller cities or towns (these smaller cities and towns are also vehicle rovers) for fuel, labor and resources. London is the most powerful city.
The main crux of the story is that of Hester Shaw (Hera Hilmar) – after she boards London via one of the ingested mining towns. She's on a mission to assassinate Thaddeus Valentine (Hugo Weaving), Head of the Guild of Historians. Her motivations are unknown but she means to see him dead. She'll eventually team up with former pilot and historian buff, Tom (Robert Sheehan), who works aboard London and has access that she does not. Hester and Tom must navigate their way through London and its outskirts to stay alive and to see Hester complete her mission.
Mortal Engines is taking a bit of a thrashing at the box-office but I enjoyed the film enough. I didn't want to go too much into spoiler territories but I feel that Engines may be one of the first fully realized steampunk science-fiction film that I can think of in years. I'd go so far as to say that it's a steampunk version of Star Wars. Hell, certain scenes have that template. It's not a bad thing, because I was entertained.
With that being said, is the film perfect? Not at all. It's not as original as it could be and I've yet to read the books – I believe there are ten books in the series now. The film runs over two hours but there are certain patches that really did need to be fleshed out. I hope we get an extended cut on Blu-ray. WETA did the special effects work for the film and it was great. One of my favorite creations was that of the character called Shrike (Stephen Lang). He looks like a zombie/cyborg/doll, but indestructible.
By the time we get to the end of Mortal Engines we are left with a more simple reaction – at least it was for me. I thought it was good fun, had a good-looking cast (I love Hugo's hair!), and great effects. It did its job in entertaining me. I think the film was probably a bit too difficult to market to the mainstream due to folks not being quite as familiar with Reeves' novels. Also, that the marketing materials gave the film a YA tone may not have done it any favors. YA material is starting to wear thin since big studios are gobbling up properties. I wouldn't even consider the film YA material anyway, granted, the novels may be, I have not read them.
In closing, if you want to tread some familiar ground with an awesome steampunk aesthetic and awesome visual effects, Mortal Engines may just be your cup of tea. I am already predicting that the Blu-ray will be demo-worthy material once released. I hope the Blu-ray Gods bless us with (my wishful thinking) an extended cut!
Mortal Engines in theaters December 14, 2018 (USA)
---
Media Rights Capital (MRC) | Scholastic Productions | Silvertongue Films | Universal Pictures | WingNut Films
Studios & Distributors
PG-13 (for sequences of futuristic violence and action)
Rating Certificate
Fran Walsh | Philippa Boyens | Peter Jackson
Writer
Summary
In a dystopian future of rolling cities consuming each other to survive, a mysterious young woman sets out to alter the course of humanity and uncover the truth behind her mother's murder in this steampunk fantasy based on the YA novel series by author Philip Reeve. Mortal Engines may not be accessible to mainstream audiences, but that does not diminish its entertainment value. If you can see that it's basically a steampunk version of Star Wars then you will be okay.
What people say... Login to rate
Be the first to leave a review.
Show more