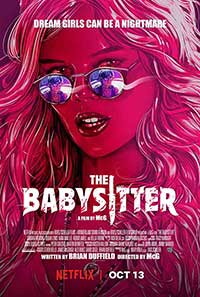 One does not usually associate McG (Charlie's Angels, Terminator: Salvation) with the horror genre outside of Supernatural on television. Feature-film wise he's more of a workman-type of director dabbling in action, science fiction,and maybe drama. After watching the trailer for The Babysitter and seeing that it was directed by the McG I was more than interest. Okay, I was really interest, because the trailer looked great!
Cole (Judah Lewis) is the typical 12-year-old bullied kid at his local school. His list of friends is short and the list of people who pick on him is large. It almost seems that his only friend and confidant is the distracting beauty Bee (Samara Weaving). Oh, and she's also his babysitter — lucky bastard!
Once Cole's parent's jet off for the weekend, still in town at a semi-fancy hotel, Bee and Cole have some fun listening to tunes, eating junk food, and quoting movie trivia. All is good so far until Cole goes to bed and Bee invites her degenerate friends to come and play. Unbeknownst to poor Cole, Bee and her friends are part of a satanic cult and they need the blood of the innocent for one of their incantations.
The festivities kick into high gear when an innocent pawn in Bee's plan is sacrificed by having two large butcher knives impaled in the kid's head. The graphic brutality is, more often than not, on the funny side, because it is beyond exaggerated. Think of the Kill Bill films. Blood literally sprays out of people in buckets. Cole will have to use everything in the "home alone" survival guide in order to make it out alive. Bee and her gang are a resourceful bunch and give it just as good as they take it.
The Babysitter runs a brisk 80 minutes (85 minutes with credits). Save for a few scenes that establish the film early on, once the first kid is sacrificed, the film seems to almost play in real-time, which was cool. The pace moves at break-neck speed…pardon the pun. The film does have a few stylistic flourishes here and there — mainly in that when certain characters are talking, the background extras purposely move in slow motion, as if it were some sort of hyper reality scene. It didn't take me out of the film per se, but it seemed like it was being used to disguise the fact that the film may have been done on a low-budget. It did look cool, though.
I hope the film does well in terms of Netflix's ratings, because they could totally continue with a potential sequel. The material lends itself to a sequel. Something like The Babysitter, a few years ago, could have gone straight to video if the studios didn't know how to properly market the film for theatrical release. Thank goodness for Netflix, because it has cult-film written all over it. I should clarify that the film is not a straight horror film. It's more of a comedy than anything else, but does have horror overtones like satanic sacrifices, violence, and gore. It falls into the "B-movie" cult horror category for sure, real pulp or grindhouse style horror with a comedic twist. I had a great time with The Babysitter and it is beyond recommended.
Netflix Original Film The Babysitter is available for streaming on Netflix starting October 13, 2017.
Boies / Schiller Film Group | New Line Cinema | Wonderland Sound and Vision | Netflix
Studios & Distributors
TV-MA (Graphic violence, sexual situations, and profanity)
Rating Certificate
Summary
A pubescent kid (Judah Lewis) finds out his hot babysitter (Samara Weaving) is involved in a satanic cult in this rude, lewd, and crude Netflix Original horror comedy film from director McG. The brutal violence is comedic, but has enough of a horror gut-punch to satisfy horror and non-horror fans alike. The Babysitter is highly recommended.
What people say... Login to rate
Be the first to leave a review.
Show more