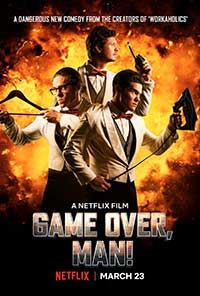 Netflix Original Films has found a small goldmine in comic actor Adam Devine's innate ability to make folks laugh. Following When We First Met, Devine returns in a comedy-thriller, Game Over, Man!. Three perennial losers, Darren (Anders Holm), Joel "Baby Dunk" (Blake Anderson), and Alexxx (Devine) are housekeepers in a high-end LA hotel. Alexxx is a self-centered big mouth who spouts out "great" ideas for moneymaking schemes, like"Skintendo," an adult video game with a VR body suit. Little does Alexxx know that Darren the action guy and Joel the tech whiz have been working on this concept for months.
When two hotel guests find a clearly high Darren conked out in their room, supervisor Cassie (Aya Cash) is about to can the trio. Skeevy hotel manager Mitch (Daniel Stern) has a better idea:  make the three men the wait staff at a big-time party that night hosted by Instagram mogul, Bae Awadi (Utkarsh Ambdukar). In short order, Conrad (Neal McDonough) and Erma (Rhona Mitra) kill the hotel's security guard and, accompanied by their money man Donald (Sam Richardson), they move in their tough guys and take over the hotel. The gang's goal is to hack Bae's financial account and make off with his millions.
At the rooftop bar party, Alexx, Darren, and Joel AKA the "dude crew" pitches their "Skintendo" game to Bae. The schlock star writes them a $250K check that Mitch immediately snatches and then fires the three. The would-be video game stars go on the run after the hotel goes into full lock-down mode engineered by Conrad and his men. All means of communication are cut off and the party guests get explosive collars and are sequestered in the conference center. However, the tables get turned when the three dudes inadvertently get some of the bad guys killed. Suddenly Mr. Ahmad (Jamie Demetriou), Awadi's aide, gets up and kills Conrad.  Ahmad announces that, unless there he receives a $500 million ransom and an escape helicopter, a hostage will be killed every fifteen minutes.
What follows is a relentless high-speed chase through the hotel, fueled by Darren's take-charge attitude and Joel's inventiveness, as the body count mounts (including some spectacular dives out the windows), plenty of blood and gore is spilled, and we get an improbable ending that hints at a possible sequel.
Anders Holm's nonstop action script for Game Over, Man! does not give Adam Devine the usual boatload of opportunities to exploit his inner funnyman. This is too bad since the heavy-handed storyline gets plenty of sick dick jokes and screaming jags but relatively little needed comic relief. Best described as frat boy humor (The Hangover) meets action hero violence (Die Hard), Game Over, Man! does not really succeed on either level. I was anticipating a fun follow-up to the Holms-Devine-Anderson trio's irreverent and highly successful Workaholics television series. Unfortunately, like the 30 second scene where the three friends rapid-fire their automatic weapons and manage to miss everything, their feature-length film debut also has many more misses than hits. Perhaps, Devine and company should stick to the 30-minute television episode format that has worked so well for them in the past.
Game Over, Man! is now available for viewing on Netflix
Point Grey Pictures | Scott Rudin Productions | Netflix
Studios & Distributors
Summary
Three buddies (Adam Devine, Anders Holm, Blake Anderson) working as hotel staff while developing their oddball video game concept find themselves in the midst of a dangerous scenario and having to become James Bond-like heroes when the person they were planning to pitch their idea to is taken hostage along with a number of the guests and staff. Game Over, Man! is ultimately a disappointing comedy-thriller that fails to live up to the promise of this team's hit Workaholics and is too heavily reliant on frat comedy pranks and d**k jokes.
What people say... Login to rate
Be the first to leave a review.
Show more