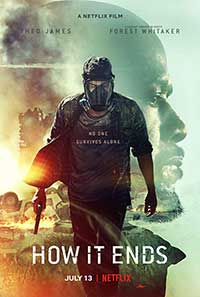 How it Ends, the latest offering in the ever-expanding catalog of natural disaster films, starts off innocently enough as Seattle attorney Will Younger (Theo James) and girlfriend Samantha "Sam" Sutherland (Kat Graham) view an ultrasound examination of their unborn son. Later that day, Will flies from Seattle to Chicago to meet Samantha's protective and well-to-do parents, retired Marine officer Tom (Forest Whitaker) and Paula (Nicole Ari Parker). While Will had intended to ask for Tom's blessing to marry Sam, the cantankerous oldster steers the conversation the wrong way and the prospective fiancé gets asked to leave their apartment. Will tries to call Sam on his way back to Seattle, but their connection suddenly goes dead with unsubtle hints that some untoward event has just occurred. Seismic activity is reported on the West Coast, communication is disrupted throughout the US and all flights are cancelled. Will reluctantly returns to the Sutherland's apartment to find Tom packing for a drive to Seattle and cautiously joins him in a search for Sam.
We begin to see a wholesale destruction of public services and the rapid erosion of law and order. Troops take over the highways but Tom pulls rank and manages to pass through their roadblock. The trouble has just started for these two men when a villain in a hijacked state trooper's car attacks them and seriously wounds Tom. The pair reach an Indian reservation where they meet Ricki (Grace Dove), a brash young Native American woman with auto mechanic skills who then joins them so she can see California. As the three motor along the mostly deserted roads, they meet more groups of armed men that have ostensibly replaced local law enforcement officers and mean to do them more harm.
Tom's condition continues to deteriorate and after another violent encounter with highway bandits, Ricki takes off for good. Will pushes ahead to reach what is left of Seattle and reconnect with Sam but his prospects for finding his girlfriend look pretty dismal, considering the desolation that he sees looming ahead of him.
How it Ends scriptwriter Brooks McLaren has cut his cinematic teeth on this film and his lack of experience in creating a compelling screenplay is readily apparent. This highly derivative film liberally borrows themes and situations from such sci-fi "gems" as 2012 and San Andreas. McLaren's efforts to create the sense of chaos that follows the breakdown of communication systems and the rule of law are patchy and there is little if any attempt to explain the destructive forces of nature at work. A clearly tacked-on final scene will leave viewers scratching their collective heads to find any meaning whatsoever, but, mercifully, it does signal the end of the film. This is also director David M. Rosenthal's first foray into the sci-fi world and, in spite of being given a good cast, he seems uncomfortable with the script that he has received, resulting in a production that jerks along in fits and starts. The CGI effects that enhanced previous apocalyptic flicks are in rather short supply, suggesting that Netflix may have tried to save a few bucks here. Save yourself a couple of hours and pass this one by; the world as we know it deserves a far better ending.
How it Ends is streaming now on Netflix
Paul Schiff Productions | Sierra/Affinity | Netflix
Studios & Distributors
David M. Rosenthal
Director
13 July. 2018
Release Date
Summary
A man (Theo James) tries to get back to his pregnant fiancee (Kat Graham) during a mysterious apocalyptic event that turns the world chaotic in this latest Netflix Original film from director David M. Rosenthal. A post-apocalyptic, end-of-the-world film that, in spite of a good cast, fails to launch with a mediocre script and uncertain direction.
What people say... Login to rate
Be the first to leave a review.
Show more