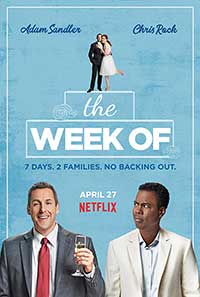 Screen legends Adam Sandler and Chris Rock reunite for what seems like the umpteenth time, now respectively as fathers of the bride and groom. The Week Of is a wedding-based comedy of errors that was clearly intended to bank on the extensive experience that each actor brings to the table. As a spoiler alert, neither actor gets much of a chance to exhibit his comic chops.
Cash-strapped but proud contractor Kenny Lustig (Sandler) is about to marry off his lovely daughter Sarah (Allison Strong) to dental student Tyler (Roland Buck III), the son of a wealthy L.A. surgeon, Dr. Kirby Cordice (Rock).  Things get off to a rocky start when Kenny goes to the airport to pick up grumpy and legless Uncle Seymour (Jim Barone) and gets a list of the old man's medical requirements that will compel him to room and board his uncle instead of putting him up in a hotel. We gradually meet Kenny's extended family, argumentative wife Debbie (Rachel Dratch), wimpy son Isaac (Jake Lippmann), younger daughter Rose (Chloe Himmelmman), Aunt Iris (Suzanne Shepherd) and grandmother Roberta (June Gable). More guests invade the Lustig household, including catatonic and recovering drug-addict cousin Noah (Noah Robbins), numerous relatives of the groom and even Dr. Cordice himself when his "suite" at the "two-diamond" Quality Lodge develops a ceiling leak.
In a creaky effort to coerce chuckles from the audience in The Week Of, everything that could go wrong before and during a wedding actually does: Seymour is mistaken for a WW II hero, the ballroom at the hotel also springs a leak, and there is much more to follow. Unlike Kenny's stereotypic extended Jewish family, Kirby's ex-wife Katrina (Melanie Nicholls-King), her Latin lover Ignacio (Jorge Luna), and his other kinsfolk have relationships that are strained at best. Yes, the wedding somehow manages to take place but, of course, there is at least one more catastrophe waiting in the wings.
This slideshow requires JavaScript.
This latest Sandler-Rock collaboration received much pre-release ballyhoo, as it was the first time that Netflix Studios reached out to them for a feature film. Both actors have long histories of cinematic hits and misses but I am sorry to report that The Week Of clearly lands in the latter category. Their loyal fans who were expecting an updated reboot of Father of the Bride will have their hopes dashed soon after the curtain rises. A sure death knell for this rom-com can also be blamed on a tempo that makes a "week" seem more like a "year," while the highly anticipated guffaws are few and far between. The film's scant tug-at-the-heartstrings moments occur much too late to save the day and Rock's "aha" moment after the wedding ceremony rings so falsely that it would have been better left on the cutting room floor. Perhaps, this is one time when cooler studio heads should have prevailed and demanded a far better script from SNL writer/director Robert Smigel and a less self-indulgent turn by Adam Sandler.  To add insult to injury, the blatantly racist depiction of Asian hotel manager Hanan (Nasser Faris) was the ultimate fast-forward prompt for me and any of the few hardy viewers that made it to the end credits.
The Week Of is streaming now exclusively on Netflix
Happy Madison Productions | Netflix Studios
Studios & Distributors
Robert Smigel | Adam Sandler
Writer
Summary
In the latest Netflix Original feature film from Adam Sandler, two fathers with widely different personalities are brought together for the longest week of their lives when their children are set to be wed in a week. The Week Of proves a rather disheartening attempt at a father-of-the-bride rom-com that squanders the comedic efforts of Adam Sandler and Chris Rock. Two hours pass by in an eternity and the stereotypic handling of racial and ethnic groups is out of touch with today's sensibilities.
What people say... Login to rate
Be the first to leave a review.
Show more