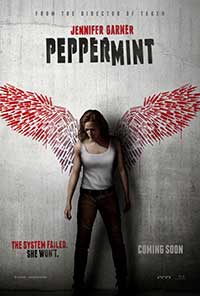 More than a decade ago Jennifer Garner played a truly tough gal as Elektra Natchios, and, as physically fit as ever, she portrays a badass vigilante in Peppermint. It is the Christmas holiday season in LA, as the North family—auto mechanic Chris (Jeff Hephner), bank employee Riley (Garner), and their adorable daughter Carly (Cailey Fleming)— are spending the evening at an amusement park after Carly's birthday party is ruined by Riley's snooty "friend" Peg (Pell James) who scheduled a  competing class party for her own daughter.  Earlier that day, Chris was approached to rob major drug dealer Diego Garcia (Juan Pablo Raba). Although he declined the offer, word of the planned caper reaches Garcia who orders a hit on Chris that also takes out Carly and a shot to the head nearly kills Riley. If you were wondering, the film's curious title refers to the last ice cream cone that Garner's character orders before her family is killed.
When Riley emerges from a month-long coma, LAPD Detective Stan Carmichael (John Gallagher, Jr.) visits the hospital and convinces her to go to the police station and identify three men in custody who might be her family's killers. After she picks each of them out of the lineup, mob defense attorney Henderson (Michael Mosley) comes to her nearly empty house and tries to buy her silence. Riley refuses this offensive offer but in the following courtroom scene, Henderson effectively discredits her mental status while Judge Stevens (Jeff Harlan) frees the trio for lack of credible evidence. Riley goes berserk and gets tasered but on route to the LA County Hospital psych ward, she escapes from the ambulance and goes off the grid.
Five years later, Riley is living in an abandoned van on LA's Skid Row. and has inexplicably acquired some serious martial arts and weapons skills. Riley's first "message" for the Garcia gang is delivered by the dead bodies of the men who murdered her family, hanging by their heels from the amusement park Ferris wheel. This deed also gets her on the  radars of Detectives Carmichael and Moises Beltran (John Ortiz) and FBI Agent Lisa Inman (Annie Ilonzeh). Riley next crashes one of Garcia's money laundering shops and takes out most of its crew, leaving only Marvin (John Boyd) alive to deliver an explicit warning to his boss.
There ensues a seemingly endless series of lethal hand-to-hand fights and mass shootings that leave a growing trail of dead drug dealers, culminating in the highly anticipated showdown between Garcia and a Riley North with enough cuts, bruises, and knife wounds to kill a platoon. Of course, you know well in advance that a neighborhood guardian whose iconic portrait adorns the wall of an abandoned building will not die.
Peppermint is screenwriter Chad St. John's second full-length feature film script and one very much in the vigilante vein that made the original Death Wish franchise so popular with audiences and so often panned by film critics.  Being a violence-driven story with modest amounts of dialogue and character development, I kept waiting for some plot twists that I could not have predicted and came up empty. The repetitive television coverage that makes Riley a folk hero is directly cribbed from the Death Wish 2018 remake and gets old pretty quickly. The only audience reaction  that I heard in the theater was the hearty applause when on-the-run Riley visits Peg's home and punches the bitch smack on the nose. Maybe Garner should have done likewise to get the attention of director Pierre Morel who mostly stays out of the way and allows David Lanzenberg's ubiquitous cameras to run amok. I was hoping that assigning Jennifer Garner the role of a fierce female crime fighter would work for her but this film soon became yet another example of "I think that I have seen this one before." Yes, you have, and unless peppermint is your favorite flavor, you can easily pass on this one.
Peppermint is in theaters September 7, 2018 (USA)
Huayi Brothers | Lakeshore Entertainment | STX Films | STX Entertainment
Studios & Distributors
R (for violence, language, drugs)
Rating Certificate
English | Spanish
Language
Summary
Riley North (Jennifer Garner) comes out of self-imposed exile, years after her husband and daughter are killed to seek bloody vengeance on the people responsible for killing them. An ultra-violent Death Wish-style crime thriller with a female warrior lead that breaks little new ground and is eminently predictable.
What people say... Login to rate
Be the first to leave a review.
Show more