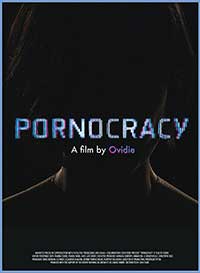 With Pornocracy, well-known French feminist Ovidie reveals the dark underbelly of the adult industry, but times have changed, instead of singling out woman as the victims she challenges how we see the winners and losers in porn. And if she's to be believed there is only one winner.
With Internet searches in the billions, porn continues to drive an increasing amount of online traffic. Much of which is consumed in a limitless fashion, free of charge or age verification.  A problem acknowledged by many within the adult industry, though most insiders are tight-lipped about it, a point Pornocracy tries to hit home. A former adult performer/director Ovidie stars as the on-camera investigative reporter, narrating when appropriate, her melodic voice chronicling her deep dive into what went wrong and how.
Perhaps it's Ovidie's presence, but this is the first documentary I've seen about porn that felt personalized. Reflecting on how the adult industry once was, her memories seemed to glamourize what it was like in the late '90s to early 2000s, which may have been intentionally done to further contrast the past with the present brutality of today's scenes. Ovidie makes it clear that adult entertainment today pays a lot less, demands so much more and turns women into disposable commodities. As she pointed out, "How can you empathize with these girls if they don't really exist?"
Through a combination of interviews with performers, producers, adult industry experts and journalists the documentary paints a startling, and at times depressing picture about the Internet's impact on the adult entertainment business.
Everyone's injecting themselves or on pills, comments one of the producers interviewed in Pornocracy, as if this is standard. He speaks of the performers in a blasé way, as if remarking on tools and not humans. "Two of the little pills they use for childbirth to relax the muscles and they destroy the girls," he says, as if this is something to brag about. It's disturbing. And true.
This slideshow requires JavaScript.
Yet this documentary strays from the usual tropes. While remarking upon the extreme physical demands put upon female performers, it seems to suggest the porn industry as whole (not just the women) has been victimized by the tube sites. Through heavy investigation the tube sites were traced back to one big company, Manwin now known as MindGeek. Allegedly driven by one entrepreneur whose interest in high traffic sites led him into acquiring the majority of today's porn companies, the porn conglomerate remains a mystery operation.
Going from model houses, where women frequently cohabit together as they enter the business for the first time, to webcam studios and then to a married couple's at-home studio where they produce custom clips for sale, Ovidie tries to cover all bases to make the point about who's really profiting. It's not the performers. Whether it's women struggling to make it as cam models, working sometimes for no pay or a couple earning a mere 20% of the profits from their custom video, of which they will be taxed on, the documentary makes it clear that the people on the bottom, the content producers are the poorly paid workhorses from which one large company profits.
For those within the adult industry, this is the closest any documentary has come to getting it right and yet it leaves out so much. For everyone else, this might be a little too insider, a deep dive into a controlling entity that much of the porn consuming or porn curious population has little interest in.
With a cinematic flair this film is beautifully composed with artfully lit shots, visually supporting the film's emotional authenticity. With its seamless editing, the story flows well, maintaining a strong and steady pace throughout. However the ending feels abrupt, as if there were more to say but time had run out. Considering the subject perhaps that's a fitting message to end with.
Run time is 77 minutes and there's rarely a dull moment; the film certainly leaves you wanting more.
Pornocracy is available for streaming world-wide on Amazon Prime Video and is also available on Blu-ray & DVD from FilmRise.
Products from Amazon.com
‹
›
Canal+ | Centre National du Cinéma et de L'image Animée (CNC) | Fatalitas Productions | Magneto Presse | Prime Video
Studios & Distributors
French | English | German
Language
18 Jan. 2017 (France)
Release Date
Summary
Famous French feminist Ovidie pulls back the curtain on the adult film industry and the international cartels now controlling it on the internet in this fascinating and authentic view of an oft misunderstood industry.
What people say... Login to rate
Be the first to leave a review.
Show more