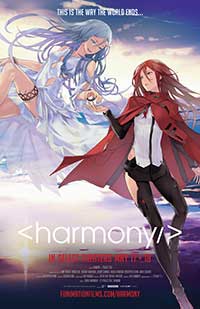 I was anxious to watch Harmony after reading TheaterByte Editor-in-Chief Brandon DuHamel's positive review of The Empire of Corpses – both done by Project Itoh. That film was a steampunk horror infused anime while Harmony would be a full on science fiction anime opera of sorts – if the trailers gave any indication. I saw a familiar name attached as director and that would be Michael Arias who also directed the excellent Tekkonkinkreet and produced The Animatrix a few years ago.
Harmony takes place in a distant future where many nuclear wars have blanketed most of the planet. Folks who live in the glitz and glamour often go outside of their comfort zone to trade with settlers of the outside world. They deal in weapons, food, and alcohol. Some of the usual and traditional vices do not exist in the futuristic enclaves of the time – although some folks that live there and are of high ranking still remember the taste of French red wine.
It's in this neo-future that three friends: Miach, Tuan, and Cian make a suicide pact. At the last second Tuan and Cian back out and leave Miach alone to go through with her death. The pact was entered into in protest to the current government over invasive they are into the lives of the general populace. Everyone is tracked by nanotechnology, so "big brother" tends to know all. The "Administration" is now known as an "Admedicstration." Instead of being ruled over by a political party everyone is ruled by a medical party and they use nanotechnology in everything to keep folks on a leash.
Years later Tuan finds herself working for the World Health Organization and all seems dandy until a mass suicide rocks the world. There are similarities of her earlier pact with Miach and Cian, but knowing the outcome of that one why would it be similar? A small group comes forth and takes responsibility for it but Tuan is not convinced and begins her search for the truth.
I have to say that Harmony was a bit of a buzz kill. The positives are that the animation is absolutely gorgeous. It's filled with tons of traditional 2D artwork and some computer generated imagery but never feels like the CGI is trying to take over. It is a graphic film in terms of violence. There are several scenes involving suicide and self-harm that is pretty vivid. On a technical level Harmony succeeds. The bad news is that the story is and pace of the film leave a lot to be desired. I am all for "slow burn" type-of-films but Harmony does take its sweet time unfolding. I was looking at the clock more than once. It's a two-hour film, as well. It definitely needed to be reined in a bit.
If you want a thinking person's anime then I'm sure that Harmony could fill the void but I have a feeling that it will divide audiences. If you want a dull exercise in style then I think it fits that mold much better. As someone that was looking forward to the film I was disappointed by the end and glad that it was over.
Harmony (TheaterByte Movie Review)
Studio 4°C/FUNimation Entertainment
Studios & Distributors
Japanese (English sub.) (Eng. version available)
Language
Michael Arias | Nakamura Takashi
Director
13 Nov. 2015 (Japan) | 17 May 2016 (LTD. USA)
Release Date
Summary
Harmony could have been a much better film if the narrative weren't as muddled as it was in addition to being way too slow going. It's style over substance, with very little punch to it. A rental may suffice.
What people say... Login to rate
Be the first to leave a review.
Show more