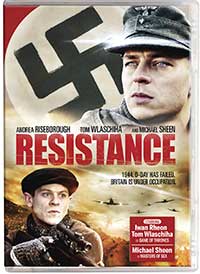 It is 1944 and World War II is in progress but, much in the same vein as The Man in the High Castle and Fatherland, Resistance is set in an alternative reality where the Allies' D-Day invasion has failed and German troops have invaded the UK. In a small Welsh farming town located in a verdant valley, all the able-bodied men have left to join the Resistance forces. Sarah Lewis (Andrea Riseborough) and the other townswomen hold on to their fading hopes that their men will return. One of the few remaining men, young George (Iwan Rheon) is working as a secret courier and advised by the older Tommy Atkins (Michael Sheen) that he is making an important contribution to the Resistance.
A German squadron commanded by Captain Albrecht Wolfram (Tom Wlaschiha) has just entered the village and commandeered all of its resources. Wolfram is the only English-speaker in his company and orders the women including Sarah, Bethan (Kimberley Nixon), Helen (Melanie Walters), Ruth (Mossie Smith, and Maggie (Sharon Morgan) to cooperate with their German invaders However,  they resist fearing that they will be branded as collaborators.
Elsewhere, resistance fighters continue to attack the German soldiers who are disadvantaged by not having a map to guide them. Wolfram has been ordered to find such a map and return with his men to the rest of the company. Sebald (Anatole Taubman) keeps Wolfram informed about events on the various UK fronts where there is still fierce fighting. Although the harsh winter is over, there is no word on the whereabouts of Sarah's husband Tom (Tomos Eames) and she has become deeply depressed. Wolfram has been fantasizing about Sarah and brings her a Victrola and some records on  her birthday to cheer her up but she rejects his kind offer. There seems to be a breakthrough moment in their complicated "relationship" when Wolfram takes her to a cave and shows her a rare medieval parchment map of the world that is being concealed from the SS.
Life has changed dramatically for Wolfram and his men. They have stopped wearing uniforms and, clad in the working garb of the absent village men, are adapting to farm work as they continue to wait out the war. In an ironic twist the Nazis visit the village during a country fair and Wolfram's troops, in their civilian clothing, blend in with the rest of the townsfolk, a number of whom are now Nazi sympathizers. The film reaches its raw emotional peak when Sarah, Albrecht and George realize that they must make decisions about their respective futures, as George recalls the remarks of the late Tommy Atkins: "the choices that we make will decide the nature of our resistance or our survival; they will be the mark of who we are."
Resistance actually hit the UK screens in 2011 but is just now getting its US all-regions DVD and Digital on Demand release on 3/7/2017. One can see that the 35 mm standard resolution is clean, but not as crisp as today's best high-resolution native sources. That notwithstanding, John Pardue's cameras catch the spectacular backdrop of the Welsh countryside and frame this sensitive war-time drama driven by events much larger than the people caught up at its center. There is, thankfully, very little battlefield violence, as the power of this film comes from its smaller gestures and deeds that collectively constitute a resistance just as effective as the fighting itself. An overt anti-war film, Resistance makes its points about the horrors of war without being preachy. Well-cast and directed, this is 90 minutes that delivers a message that will linger well past its running time.
[amazon_auto_links id="97739"]
Big Rich Films | Film Agency for Wales | Square One Entertainment | Film Movement
Studios & Distributors
Summary
A very intimate and powerful anti-war film set in a World War II UK that has been invaded by German forces after D-Day has failed.
What people say... Login to rate
Be the first to leave a review.
Show more