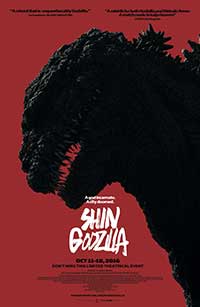 Godzilla or Gojira is truly the monster that cannot be killed. This 29th entry in the long-running sci-fi/horror franchise from Toho (the 31st movie overall) is actually the third reboot for the franchise. Through the years, Godzilla has taken on giant moths, robotic alien versions of himself, and more. This time around, co-directors Anno Hideaki (creator of Evangelion) and Higuchi Shinji (Toho's live action Attack on Titan) keep it simple and traditional. They play it close to Honda Ishirô's 1954 original, but with a faster tempo and a sensibility that contemporary audiences can relate to.
The Japanese Coast Guard investigates an abandoned ship in Tokyo Bay and finds their boat under attack. Sometime later, the Tokyo Bay Aqua-Line is flooded and collapses, but no one knows why. A government panel is quickly convened, and Japan's Deputy Chief Cabinet Secretary Yaguchi Rando is certain the incidents were both caused by some strange, large living creature after he sees a viral video on the internet, but his theory is immediately dismissed, until a giant tail is sited coming out of the sea. Then a task force is put together to investigate what the creature may be and how to stop it. Initially, they believe it can only stay in the water, but that assumption is smashed when the creature soon makes its way onto land.
The Japanese government then begins working with a special envoy from the U.S., Kayoko Ann Patterson, who reveals to them that a disgraced U.S. zoology professor had been theorizing the appearance of such a creature through mutation from exposure to radioactive waste, but he was disregarded and his research covered up. The research was correct, however, and the creature, now called "Godzilla" after the professor's work, is now theorized to be surviving on nuclear fission, due to the high reading of radioactivity coming off of it. There's a mad rush to find Godzilla's weakness as it stomps through major metropolitan areas and none of the military's attacks have any effect against it.
Being a reboot, Shin Godzilla does not concern itself with continuity with any existing Godzilla films or lore, but sort of like how Stars Wars: The Force Awakens was basically a rewrite of A new Hope, Shin Godzilla is an updated version of 1954's Godzilla. It touches on all the familiar themes we've come to expect from this franchise and the entire origin story – Godzilla born from radioactive waste, the military engaged to combat it, Godzilla terrorizes the big city as the people run for sanctuary – and of course, there's the creature itself. The look of Godzilla in Shin Godzilla is a complete throwback to the 1950s creature features – read: it's basically a guy in a lizard suit. If you are expecting the sort of jaw dropping, bone-chilling CGI effects of 2014's US Godzilla, then you may be disappointed.
Anno Hideaki and Higuchi Shinji compensate for these retro-style visual effects that may not always have the big impact they are intended to, by keeping the action quick and the overall pace of the film ad breakneck speed, even finding space for a little "meta" humor. The pace may even be a bit too fast, because the first act that sets up the story whips by so quickly, you hardly have time to take in all the information. The film could perhaps use a little tweaking in the editing room to help clarify the story arc. Ultimately, however, anyone who loves Godzilla will enjoy the way Shin Godzilla pays homage to this classic franchise and brings the traditional elements of the franchise into a more contemporary setting.
Shin Godzilla will have a limited theatrical run in the U.S. October 11-18 2016.
Shin Godzilla (TheaterByte Movie Review)
Cine Bazar/Toho Pictures/Funimation Entertainment
Studios & Distributors
Japanese (English Subtitles Available)
Language
Anno Hideaki, Higuchi Shinji
Director
11 October 2016 (USA) | 29 July 2016 (Japan)
Release Date
Summary
Shin Godzilla is fast-paced, humorous, and honors the roots of this long-running franchise, but a bit longer in the editing room and a little bit more work on the effects of the main draw would have helped.
What people say... Login to rate
Be the first to leave a review.
Show more