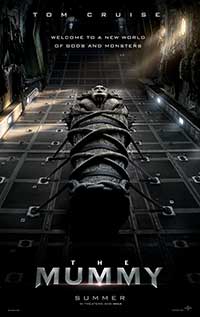 "Death is not the end but a new beginning" goes the ancient Egyptian axiom that kicks off the title credits to this film. Hollywood first met The Mummy in the early days of "talkies" when Boris Karloff portrayed the resurrected Imhotep. Since then a number of similar films have screened, the most recent being the tongue-in-cheek trilogy featuring Brendan Fraser and Rachel Weisz. Fast forward to 2017 and we get another reboot, this time starring the seemingly ageless Tom Cruise and his eye-candy sidekick Annabelle Wallis.
The Mummy opens auspiciously with the backstory of Princess Ahmanet (Sofia Boutella) who sacrifices her soul to the dark god Set with assurances that he will make her Queen of Egypt if she provides him a human form. Ahmanet slaughters her father, mother, and baby brother and, in return, she is buried alive in a sealed and heavily guarded tomb far away from her homeland.
The scene shifts to the 21st-century Iraqi war zone as ex-military Nick Morton (Cruise) and sidekick Chris Vail (Jake Johnson), searching for ancient treasure, literally fall into the long hidden tomb of Ahmanet. Accompanied by British archaeologist Jenny Halsey (Wallis), Nick gets Colonel Greenway (Courtney B. Vance) to help them fly the sarcophagus back to London. The plane crashes after it is overwhelmed by blackbirds, killing everyone on board except for Jenny who, thanks to Nick's apparent self-sacrifice, parachutes to safety. In London, Ahmanet escapes her tomb and has "chosen" Nick to aid her plans for world domination. Nick revives in the morgue and gets introduced to Dr. Henry Jekyll (Russell Crowe), the leader of the Prodigium, a secret anti-evil society, housed in the basement of the Natural History Museum of London. Jekyll has a malicious alter ego "Eddie Hyde" (get the reference?) that he controls with periodic drug injections.
Jekyll's men capture Ahmanet who has restored herself by sucking the life out of nearly everyone that she meets, and her body is infused with mercury, apparently the only substance that can render her powerless. When the Princess breaks her chains and escapes, all of London begins to feel her destructive wrath. Jekyll exhorts Nick and Jenny to bring Ahmanet down and the final act of this film has some of the similar thrills and spills of its predecessors, laden with flesh-eating scarabs, armies of dead soldiers, and an over-the-top fight to the finish.
What made the first two installments of the earlier Mummy Trilogy so enjoyable were its casts of loveable characters and the many humorous moments that provided much-needed comic relief to offset the essential darkness of the films' themes. Unfortunately, we get almost none of that here after the initial scenes in which Nick and Chris try to figure their way out of one crisis after another. Speaking of Chris, scriptwriters David Koepp, Christopher McQuarrie and Dylan Kussman pay apparent homage to An American Werewolf in London by repeatedly bringing back his decaying body that only Nick can see and hear.
While one can praise the spot-on casting of the exotically tattooed Boutella as the evil lead and the luminous Wallis as the dedicated digger this is about as far as it goes. Cruise plays his usual one-dimensional action figure and Crowe, in an extended cameo appearance, is undone by dreadful dialogue. Director Alex Kurtzmann,  better known for his film scripts, appears discomfited by what he received from this trio of writers. The storylines are a mishmash of ideas, often going in tangents only to be reined in by episodes of violent fights and mass destruction: dead Crusaders fighting for an Egyptian Princess, a split-personality scientist on a mission to combat evil, and a hero who receives enough corporal punishment in ninety minutes to die a thousand deaths. As might be expected, CGI-effects abound and there is an immersive Dolby Atmos soundtrack, but even these enhancements become tedious well before this film's conclusion. With end credits that seemed almost as long as the film itself, this first installment in a Dark Universe franchise that will feature monsters from this studio's past archives does not bode very well for the future.
Perfect World Pictures | Secret Hideout | Conspiracy Factory | Universal Pictures
Studios & Distributors
PG-13 (violence, action and scary images, suggestive content, partial nudity)
Rating Certificate
David Koepp | Christopher McQuarrie | Dylan Kussman
Writer
Summary
A reboot of a classic horror film genre with a great looking monster but very little else to give it a much needed infusion of life.
What people say... Login to rate
Be the first to leave a review.
Show more