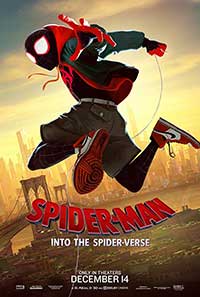 Spider-Man: Into the Spider-Verse is the new animated feature film featuring our favorite web-crawler. Now, this being a Spider-Man film set in a different timeline – the characters are bit different and so are their appearances.
Miles Morales (Shameik Moore) is a talented artist and high school kid whose parents work hard and want the best for him. He doesn't live in the best of neighborhoods but ends up getting a spot at a new and elite school across town.  As the Spider-Man origin goes, Miles is on a trip in the sewers with his uncle, to find open space for him to tag up, when he is bitten by a radioactive spider. The usual ends up happening and Miles starts to change into you know who.
Kingpin (Liev Schreiber) is out there trying to destroy the city with what looks to be a "super collider" and as he does this causes a chain reaction of events that shake up several timelines in various dimensions. These timelines get shake so hard that the Spider-Men and Spider-Women of those timelines end up in young Miles Morales' timeline. Sounds confusing, huh. It really isn't, in fact, it is so much fun to see the various Spider-Folk characters join up together to stop Kingpin and his henchmen.
What obviously separates this new film with anything else that has ever come before is the outrageous art and animation style. It's a walking collage of 2-D wrapped around in 3-D drawn on textured paper. It was an acid trip without the acid. Not only did the film look and sound great but it also had enough emotional depth, and a cool story, that it's leaps and bounds better than some of the typical superhero fare that has hit theaters and media in recent years.
 There were some characters that I was already familiar with and a couple of more that had radical changes to their typical design that threw me in for a loop. The humor wasn't grating and was balanced well with the action and adventure aspect of it. To parents that are considering taking their small children to this be warned – there is a death of a character in the film that gets stylistically killed onscreen.
As far as the animation style of the film goes – as I mentioned before, I can see traditional 2-D hand drawn animation with some CGI flourishes. The image itself looks like it was drawn on textured paper. I can see pits and grooves, as if you were to draw or paint on linen or papyrus papers. Some of the backgrounds and even items in the foreground look 3-D without actually being 3-D. I read somewhere that it took one week to render one second of film (Editor's Note: while a Sony representative did make this claim, it was an obvious slip of the tongue, as this would mean it would take aprox. 134 years to render the film. Perhaps he meant to say 1 week per minute?). Having watched it on the big screen, I do not doubt it at all. In fact, the film was directed by three people, so that goes to show you the scope of the work.
Spider-Man: Into the Spider-Verse fires on all cylinders and I would recommend catching it on the biggest and loudest screen you can see it on. I have a feeling that this new iteration will have young people, and old people alike, discovering Spider-Man for the first time along with a new-found appreciation for art. I went shopping for a sketchbook, pencils, and pens after the showing, because I needed to start drawing when I got home. Not only is Spider-Man: Into the Spider-Verse a visual feast, it's actually one of the best films of 2018. I hope folks give it a chance, because I would love to see more films like this and in the same art style come to fruition down the line.
Spider-Man: Into the Spider-Verse is in theaters December 14, 2018 (USA)
---
Avi Arad Productions | Columbia Pictures Corporation | Lord Miller | Marvel Animation | Marvel Entertainment | Pascal Pictures | Sony Pictures Animation | Sony Pictures Entertainment
Studios & Distributors
PG (for frenetic sequences of animated action violence, thematic elements, and mild language)
Rating Certificate
Bob Persichetti | Peter Ramsey | Rodney Rothman
Director
Phil Lord | Rodney Rothman
Writer
Summary
You've never seen Spider-Man like this before. Now there are several of them from different timelines joining forces to defeat the Kingpin in this insanely animated feature film. It fires up on all cylinders for one exciting and visually breathtaking film and it's one of the best films of the year to boot! Spider-Man: Into the Spider-Verse is highly recommended!
What people say... Login to rate
Be the first to leave a review.
Show more