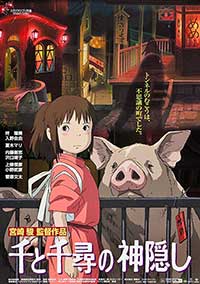 Spirited Away revolves around a girl, Chihiro, who moves out of the city into the country with her parents and after a mistake while driving they end up in a tunnel, which leads to a magical world. After a misunderstanding, her parents end up being turned into pigs and now young Chihiro has to stand on her own in this unknown world and save her family without forgetting who she is.
For sure the quality of this anime movie cannot be doubted, since it gives food for thought. The setting is supposed to be a magical almost utopian world, though it is far less forgiving than the real one, as the young protagonist has to grow up before her time and save her parents as soon as possible. There are many complex messages and I think it is a movie that needs to be re-watched to fully comprehend it.
The scenes when the viewer sees Chihiro trying to get a job in the bathhouse are unnerving on the one hand, since they refer to children's work, and it is very sad because we see her losing her childhood and going through many difficulties to survive. At the same time, it shows what is happening in the real world, by implying how work can be demanding in a toxic environment. We actually see Chihiro becoming an adult in difficult circumstances however, we feel happy to realize that her boss seems to be friendly to her ,even though at the beginning she was hostile to her.
I think one of the best scenes in Spirited Away is a scene where the No-Face monster offers her gold and Chihiro refuses because she does not need any of it. It is actually ironic watching all these people getting enthusiastic with the monster only because of the gold and watching the girl not caring about it, which in fact shows how naïve and kind kids are –a message that, despite Chihiro being forced to grow up, she has maintained her childlike innocence.  It is obvious that the relationship of the No-Face monster with adults is based on hypocrisy, while its friendship with Chihiro is real. Generally, I think that the friendship between those two is selfless and thus enviable and I found interesting the theme around the No-Face monster and its loneliness. I really wish this duo would not have to part in the end, as I thought it would stay longer with her being her guardian angel.
Another aspect which makes us aware of the theme of childhood innocence is the romance with Haku, a boy that helps Chihiro in this magical place. They start talking as friends but their relationship turns into something deeper, which is expressed in a caring and innocent, way reflecting their age; in general it was a nice romance.
The aspect of lost identity was interesting as well. We realize that Haku has lost memory of who he is and seems lost but at the same time eager to help Chihiro avoid ending up like him. It is very shocking watching her having forgotten her name in the beginning after her meeting with Yubaba. Either it is an indirect outcry for slavery or it is an indirect way of showing how  easy it is to a lose sense of one's identity and end up being something unrecognizable. In this situation love appears to solve the issue of feeling lost.
In terms of cinematography, Spirited Away is very detailed and rich with all these different magical places, the supernatural creatures (i.e. dragons and the unknown world). There are many intense scenes like the ones that involve a witch actually bullying the young girl or a scene when a filthy monster is to be washed by the protagonist. By the way, Zubaba's baby, Boh, is one of the ugliest and most irritating babies ever and I think its existence makes the movie kind of creepy. And yes the Japanese aesthetic is everywhere making the film even more appealing.
Characters are well written the plot is very intelligent, however I have to admit I expected to see more scenes with Chihiro working than trying to save Haku. I just felt it was a little awkward watching her spend so much time trying to rescue him, when at the same time she was supposed to work to not be killed and I feel like somewhere in the middle she forgot her basic aim to rescue her family, but we can sympathize with her, since she is in love and without Haku's help at the start, she would be dead. She actually owes him her life twice, so it was nice of her to help him when he was in need.
Voice performances were very good and the voices of the protagonists seem to correspond quite a lot to kids' voices. My only complaint is that Chihiro's voice is a little tiresome. I have the impression it was deafening and squeaky sometimes, but maybe it is deliberately done to show how childlike she is.
I am satisfied with the ending, because everything happens in a just and satisfying way. I liked the ray of hope we are given in the end as far as the duo's story is concerned. The last remark is funny and very down to earth, since the young protagonist endured many difficulties, so school looks a piece of cake right now.
Spirited Away was originally released in the U.S. March 28, 2001
Tokuma Shoten (presents) | Studio Ghibli | Nippon Television Network (NTV) (presents) | Dentsu (presents) | Buena Vista Home Entertainment (presents) | Tohokushinsha Film Corporation (TFC) (presents) | Mitsubishi (presents)
Studios & Distributors
PG (for some scary moments)
Rating Certificate
Japanese | English
Language
Miyazaki Hayao | Kirk Wise
Director
28 Mar. 2003 (USA)
Release Date
Summary
While moving out of the city with her parents, an adolescent girl finds herself caught in a magical world of malevolent spirits and witches where humans are turned into beasts, and she must race against time to save herself, her parents, and a new friend. This fantastical anime feature from master Miyazaki Hayao won the Oscar for Best Animated Feature in 2003.
What people say... Login to rate
Be the first to leave a review.
Show more