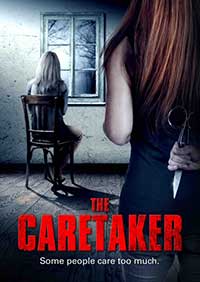 One of my all-time favorite bumper stickers read "Insanity Is Hereditary-You Get It From Your Kids." Well, according to Jeff Prugh's (Leave of Absence) latest release, The Caretaker, the pattern of madness inheritance is just the opposite, passing from parent, or in this case grandparent, to child. Birdie Ellison (Sondra Blake, Helter Skelter), an oxygen-dependent and clearly deranged elderly woman, has just fired her caretaker, Gilberto (Mike Gomez). This act triggers an emergency visit from her granddaughter Mallorie (Meegan Warner, The Veil). Birdie's physician, Dr. Frances (Rafael J. Nobel) gives Mallorie cautious instructions about her grandmother's care. August (Sean Martini), Mallorie's devoted boy friend, accompanies her and the couple moves into Birdie's creepy old house. However, their presence alone may not be enough to encourage Birdie to take the antipsychotic meds that keep her from going off the rails.
Mallorie experiences increasing bouts of somnambulism during which she has strange and troubling visions. After a few days, she and August realize that they must hire a professional caretaker for Granny. As an important backstory, Mallorie's mother Eva (Sadie Stratton) had abandoned her at age four, forcing Birdie to become her caretaker. We also find out that Birdie was a circus medium and got canned after she developed overt signs of mental illness. Eventually, teen-aged Mallorie could no longer handle her grandmother's unbalanced behavior and she moved in with best friend Taylor (Chanel Celaya, 21 Jump Street). Mallorie's visions begin to call up the clown Rawdilly (Barry Jenner) who appears to have been her childhood bugbear.
Conditions in Birdie's house deteriorate as Granny refuses to take her medication, in spite of every effort by August and Mallorie to get her to comply. The young couple continues to interview caretaker candidates but to no avail as Birdie's erratic behavior always drives them away. One afternoon, August and Mallorie gain access to the locked attic and make some stunning discoveries about her family, including the fates of Rawdilly and Eva, from old documents, photos, and videotapes. As Mallorie begins her gradual descent into madness, The Caretaker moves inexorably toward its very creepy conclusion.
Director Prugh takes on the difficult subject of insanity and makes it the fulcrum of this very disturbing film. Jeremy Robinson's first full-length script is a raw exploration of the complexities of interpersonal relationships, particularly when those involved are "not all there." Using plot devices that will be quite familiar to viewers of such horror-thrillers as M. Night Shymalan's The Visit, watching the mental deterioration of another human being will take many viewers well out of their comfort zones. The success of this essentially three-person film comes from the potent performances of its principals, Blake, Stratton, and Martini who create credible characters. Not everything works here, as Birdie's need for oxygen is inconsistent and her self-inflicted scissors cuts don't seem to need bandages. Such quibbles aside, The Caretaker was very well received, garnering several film festival awards in Indie Horror film genre. Watching this relatively brief movie, I was continually impressed by how Prugh and company made so much out of the very limited sets that frame a small domestic world where the unthinkable becomes real. A nicely done horror film début that borrows from the past but clearly understands the present.
The Caretaker will be available for viewing on various VOD services starting September 30, 2016.
The Caretaker (TheaterByte Movie Review)
Step Off Grandpa Productions/Level 33 Entertainment
Studios & Distributors
30 Sept. 2016
Release Date
Summary
The Caretaker is a tense domestic horror film that deals with the impact of insanity on a family with limited resources.
What people say... Login to rate
Be the first to leave a review.
Show more