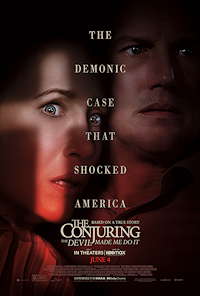 This third installment in The Conjuring franchise recalls all of the supernatural tropes that made its predecessors such big box office smashes, although the ongoing pandemic has taken a toll on this one's in-theater revenue. Once again, the husband-wife demonologist duo of Ed (Patrick Wilson) and Lorraine Warren (Vera Farmiga) are called into action.This time they are needed in 1981 Brookfield, Connecticut, to witness the exorcism of young David Glatzel (Julian Hilliard). Also in attendance are Father Gordon (Steve Coulter), David's older sister Debbie (Sarah Catherine Hook) and her boyfriend Arne Cheyenne Johnson (Ruairi O'Connor). Arne actually gets the demon to pass from David and to enter his own body during this exorcism, while Ed has a nearly fatal heart attack from which he eventually recovers.
A key event happens in the kennel where Debbie works and lives with Arne in an upstairs apartment. When their landlord, Bruno Sauls (Ronnie Gene Blevins) messes around with Debbie, the now-possessed Arne suddenly stabs him 22 times. Arne is jailed and is tried for murder while trying to use demonic possession in his defense. With help from former priest Father Kastner (John Noble), the Warrens find that a totem left at the Glatzels' house  is identical to the one involved in the stabbing death of young Katie Lincoln (Andrea Andrade). The common thread in both cases is the work of The Occultist (Eugenie Bondurant). To rid the Warrens and all others involved in this case of the ongoing threats posed by this evil woman who turns out to be Father Kastner's daughter Isla, they must find and destroy The Occultist's altar where she originally summoned the demon that has possessed so many people.
The Conjuring: The Devil Made Me Do It (2021)
If you have seen the two previous Conjuring films, then there will be few if any surprises in the reappearance of demonic possession that figured in the actual 1981 trial of Arne Johnson as chronicled in Gerald Brittle's book The Devil in Connecticut. The return of Farmiga and Wilson is most welcome since they have gotten their paranormal investigator personas down to the proverbial tee. Irish actor Ruairi O'Connor does a splendid job of impersonating a young man who literally and figuratively wants to get his life back and marry his sweetheart (which the real Arne did  while in prison). The redoubtable Aussie film star John Noble whom I last saw in the television series Hunters gives a superb portrayal of the former priest now chicken farmer with a vast collection of religious artifacts in his basement. Director Michael Chaves is no stranger to the supernatural world and most recently debuted in The Curse of La Llorana. Pacing is essential to maintaining the dramatic tension of this genre's films and Chaves makes sure that we are consistently kept on edge, awaiting the next frightful twists and turns of David Leslie Johnson-McGoldrick's follow up screenplay to The Conjuring 2. While perhaps not quite as fright-inducing as its two predecessors and breaking no new ground, The Conjuring: The Devil Made Me Do It will surely entertain viewers who love this cinematic genre. There are already rumors of a fourth installment in this film franchise, so stay tuned since there has typically been a three-year interval between the previous releases.
The Conjuring: The Devil Made Me Do It is now being screened in theaters and is streaming on HBO Max through July 4, 2021.
---
Rating Certificate: R (for terror, violence and some disturbing images)
Studios & Distributors: New Line Cinema | The Safran Company | Atomic Monster Productions | Warner Bros. Productions | HBO Max
Country: USA | UK
Language: English
Run Time: 112 Mins.
Aspect Ratio: 2.39:1
Director: Michael Chaves
Written By: David Leslie Johnson-McGoldrick (screenplay & story by) | James Wan (story by)
Release Date: 4 June 2021