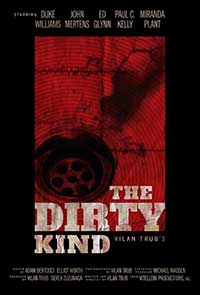 Queens provides the setting for The Dirty Kind, the feature-length film debut by this borough's native son, writer/director/photographer Vilan Trub who received encouragement from veteran actor Michael Madsen (Reservoir Dogs, Kill Bill). The story opens in the modest apartment of Ashley AKA "Natalie Cottontail" (Victoria Wallace), an attractive lap-dancer at a local strip club run by a member of the Russian mob. Ashley tells her boyfriend, local politician Lee Ziegler (Paul C. Kelly), that she is pregnant.  Lee, who is married with children, gets unhinged and rushes out to meet one of his constituents, John Featherstone (Ed Glynn), to help make all of this "go away," i.e., arrange for Ashley to get an abortion. John, in turn, is in hock up to his eyeballs to tough Mickey McElroy (John Mertens) and can retire his debt with the hush money that Lee will pay him.
Mickey takes matters into his own hands and knocks off Ashley, but everything changes for these characters when local attorney Donnie (Anthony Coppola) hires low-life private eye Raymond Cain (Duke Williams) to locate Ashley for her estranged father. Raymond's investigation takes him to the dark underbelly of Queens where he gets roughed up by strip club driver Oleg's (Albert Fuzaylov) goons,  Ed (Dean Ciallela) and Bobby (Ethan Nage).  A persistent Cain visits the club where Ashley performed and he gets chummy with her co-worker Veronika (Miranda Plant) who gives him the address of Ashley's apartment building. After Raymond breaks into the dead woman's apartment, he appears to have connected all of the dots in this case but there are still plenty of plot twists ahead.
The Dirty Kind is a slow-burning neo-noir thriller that leverages the backdrop of one of New York's toughest neighborhoods where  danger lurks in every dark alley. Trub self-financed and shot this film in only nine days using a handheld Sony FS 100 HD camera with Schneider Cine Xenon and Angenieux 18.5 mm lenses that give it the gritty style often favored by directors like Martin Scorsese where the cameras get very close to their subjects and create a "you are there" vibe. As might be expected from a young filmmaker, the segues are not always smooth and the frequent use of red lighting makes some of the night scenes  difficult to discern.
While the storyline starts out simply enough, Trub's script continues to add layers that eventually connect all of the principal characters before the final curtain drops. Perhaps the six months that pass before the final scene leave plenty to the imagination as it is not entirely clear how Raymond suddenly became so flush but one can imagine that, true to the film's title, he had plenty of dirt on his subjects and, in his neighborhood, dirt can raise a lot of cash.  A promising start for Vilan Trub and I will look forward to his future cinematic efforts.
The Dirty Kind will have a limited theatrical release in Los Angeles on May 3, 2019 and will be available on Digital/VOD after May 10, 2019
---
Vitelloni Productions
Studios & Distributors
Summary
A strong feature film debut by Queens, New York native Vilan Trub that explores the gritty side of this borough as a private eye searches for a young woman who has been intimately involved with a local politician.
What people say... Login to rate
Be the first to leave a review.
Show more