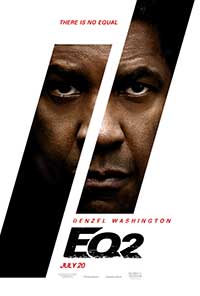 Denzel Washington is back once again in The Equalizer 2. He has returned to exact bloody revenge on evildoers that would inflict harm on the innocent. Robert McCall (Washington) continues his quest as an "avenging angel," now driving for ridesharing service, Lyft. As the driver he is literally the fly on the wall of his riders as they share the good and bad moments of their lives with their families. This allows McCall to interject some wisdom or in the case of a young lady who he fears has been sexually assaulted by her co-workers, retribution.
McCall's home-base is Boston, Massachusetts, where he lives alone and reads his books and tries to carry on with his neighbors. He only has one friend, Susan Plummer (Melissa Leo), and she tends to look after him in a way – I guess they both look after each other. As was already spoiled in the trailers, when Susan is met with an untimely and suspicious fate, McCall has to gear up once again and make the wrong things right.
In remembering the first Equalizer film, not having seen it since its home video release a few years ago, I was quite optimistic about its sequel. Denzel and director of the first one, Antoine Fuqua (Training Day, Magnificent Seven, The Equalizer) re-teamed for the sequel. I should also add that The Equalizer 2 is the first sequel Denzel Washington has ever done, so one would think that the material would be strong, right? No, I'm sad to say that the film does not live up to the hype.
On the production side of things, you have a film that does a bit of globe-trotting. McCall hits up Turkey and Belgium to handle some business but outside of a few pretty scenes of second unit work, feels non-epic in scope. As if most of the backdrop and surroundings were filled in by plates and CGI in post. I will give the cinematography some props, because there are some nice compositions throughout. I also think that the film gets a bit too convoluted with subplots that don't really go anywhere or are there to act as big-time clichés. The one that I hated because I lost track was whatever shadow conspiracy was ordering various hits on government assets. We're shown who they are and how they kill but, in the end, they seem to just operate as independent mercenaries without a boss. Maybe there was more footage or more script that didn't make it to the final stage. The film also lags a bit in parts. It only runs about 2 hours but felt like a longer film due to the editing.
Now don't get me wrong, those are my big complaints. The material that did shine through was Denzel. During the action and brutal hand-to-hand fights – he was in pure beast mode. There are a few scenes throughout the film of him exacting brutal justice on wrongdoers – he does not hold back. I do not know if this film will be as successful as the first one but we'll see if it does turn a profit, because even though I thought this entry was mediocre, I would totally see a third film if they were to go in that direction. It would definitely need a tighter script, though. I like Antoine Fuqua as a director, so bring them all back and give it a "third time is the charm" shot at it. As for The Equalizer 2 – if you have to see it at the show then stick to a matinée or MoviePass or Sinemia it.
The Equalizer 2 is in theaters July 20, 2018
Columbia Pictures | Escape Artists | Fuqua Films | Lonetree Entertainment | Mace Neufeld Productions | Sony Pictures Entertainment
Studios & Distributors
R (for brutal violence throughout, language and some drug content)
Rating Certificate
Richard Wenk | Michael Sloan (based on the television series created by)
Writer
Summary
Denzel Washington returns as Robert McCall serving an unflinching justice for the exploited and oppressed,but his commitment to that cause will be tested when that involves someone he loves in this second outing. Washington rocks in the role, but the material in The Equalizer 2 betrays his talents. The first film had its faults but the second film does not deserve to be this mediocre, with all of that talent behind it.
What people say... Login to rate
Be the first to leave a review.
Show more