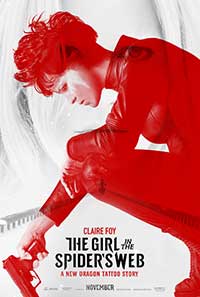 Popular Swedish author Stieg Larsson died suddenly in 2004 leaving behind an unfinished fourth Millennium series crime thriller stored on his computer that is yet to be published due to a lengthy legal battle between Larsson's family and his live-in lover. Swedish writer David Lagercrantz's novel forms the basis for this film, The Girl in the Spider's Web, and has taken several original characters from Larsson's trilogy including cyber-genius Lisbeth Salander (Claire Foy) and journalist Mikael Blomqvist (Sverrir Gudnason).
Hired by the NSA, Swedish programmer Frans Balder (Stephen Merchant) has written Firefall, a program that can access the world's nuclear arsenal but he now has serious misgivings that, in the wrong hands, it could be used for nefarious purposes. He hires Salander to hack into the NSA's server, steal his creation and destroy it. A Russian crime syndicate, the "Spider Society," established by Lisbeth's late father Alexander Zalachenko (Mikael Persbrandt) is in hot pursuit of Firefall. Lisbeth's estranged sister Camilla (Sylvia Hoeks) now runs the "spiders" and intends to sell the program to Gabriella Grane (Synnove Macody Lund), Deputy Director of the Swedish Secret Service, who ostensibly will then keep it safe from the major world powers but we all know that Camilla has her own agenda.
After the NSA gets wind that Lisbeth and her hacker colleague "Plague" (Cameron Britton), have downloaded Firefall, the agency sends Agent Edwin Needham (LaKeith Stanfield) to Sweden to recover the program. Blomqvist gets a distress call from Lisbeth and takes time out from shagging his publisher, Erika Berger (Vicky Krieps) to help his young friend. Of course, Mikael later intends to write a sensationalist story about Firefall and the "spiders," once all is resolved.
After Balder is murdered by Spider chief Jan Holtser (Claes Bang), Lisbeth successfully rescues Balder's son August (Christopher Converly) who knows Firefall's secret code. When Camilla's gang gains possession of Firefall and finds the abandoned energy plant where  Lisbeth, Mikael and August are hiding, the two adults are nearly killed while the boy is spirited off to give up the code that will activate the program. The film's final act is a thrill-a-minute effort to prevent Camilla and company from using Firefall's power to gain world domination.
The Girl in the Spider's Web is a dutiful attempt by scriptwriters Jay Basu, Steven Knight and director Fede Alvarez that eschews meaningful dialogue for life-threatening chase scenes, hand-to-hand combat, and fiery explosions and offers no significant challenge to the Rooney Mara-Daniel Craig remake of The Girl with the Dragon Tattoo. There are a number of plot elements that simply fail to launch in The Girl in the Spider's Web: Lisbeth and Camilla's long-term abuse by their father, NSA's lame effort to recover Firefall, the sidebar affair between Mikael and Erika, and the so-called genius embodied in a very humdrum boy. The versatile Claire Foy (The Crown) trades in her regal robes and scepter for a cloak, black leather, and taser but viewers who enjoyed the original Swedish films and exotic-looking Noomi Rapace's take on the title character will find Foy's androgynous impersonation rather bland. The same can be said of her evil sister whose "devil in the red dress" wardrobe is the most threatening aspect of Sylvia Hoek's character. On the male side of the aisle, Gudnason, Stanfield, and Bang receive two-dimensional parts that are readily outpaced by Cameron Britton's nerdy hacker. Alvarez's Uruguayan compatriot, veteran cinematographer Pedro Luque's location shots of Stockholm's seemingly endless winter and paucity of street traffic are the best part of a film that at face value will mostly appeal to fans of feminist-power films like Tomb Raider. For all The Girl in the Spider's Web's thrills and spills, I still found that it seemed to run longer than its stated two-hours screen time. Perhaps Stieg Larsson's unpublished Millennium novel will see the light of day and give us the real screen sequel that we have been patiently waiting for.
The Girl in the Spider's Web is in wide release in theaters November 9, 2018 (USA)
Metro-Goldwyn-Mayer | New Regency Pictures | Pascal Pictures | Scott Rudin Productions | Sony Pictures Entertainment |The Cantillon Company | Yellow Bird
Studios & Distributors
R (for violence, strong language, some sexual content/nudity)
Rating Certificate
UK | USA | Germany | Sweden | Canada
Country
Jay Basu | Steven Knight | Fede Alvarez
Writer
Summary
Young hacker Lisbeth (Claire Foy) and journalist Mikael Blomkvist are drawn into a web of intrigue involving governmental corruption, spies, and the dark web in this latest addition to the Dragon Tattoo franchise. A Nordic-Noir crime thriller that is a lukewarm follow up to The Girl with the Dragon Tattoo series and sacrifices dialogue and storyline to car chases, hand-to-hand combat, and fiery explosions.
What people say... Login to rate
Be the first to leave a review.
Show more