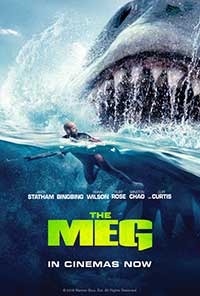 As the summer movie season draws to a close in August, what better way to get people into seats, with their refreshing beverages and popcorn, than a film about an extinct prehistoric giant freakin' shark known as The Meg! The name refers to Megalodon, which was the biggest and most ferocious shark to ever swim in the Earth's oceans all those millions of years ago.
After an incident in a submarine in which several crewmen were left to die after a mysterious attack on their craft, rescue diver, Jonas Taylor (Jason Statham) decides to give it all up and head for the pleasant life of getting drunk in Thailand. Five years later – you obviously can't keep a good man down, so when the head of a powerful deep-sea operations comes to him for help, he can't help but to sign on.
The facility they bring Taylor onboard to is called the Mana One, and while looks ca be deceiving from the outside, it's practically like the lost city of Atlantis on the inside. The production design is quite stellar when it comes to the visuals of the Mana One and its interiors.
The rest of the crew seems competent and friendly enough that they make Taylor feel most welcome. He does have a contentious history with a couple of them, but he'll make due. After losing contact with a Mana One team and their underwater submersible, a mission is set up to rescue the team. It's led by Dr. Suyin Zhang (Li Bingbing). In attempting the rescue, they see and deduce the possibilities of how and why a thought-to-be-extinct creature can still exist undetected.  Oh, and the Megalodon attacks the crew and their rescue attempt goes awry.
Yes, that last part is quite facetious but come on, this is literally the story of a giant shark. The characters and their characterizations come a distant last when trying to analyze a film of this scope. It's B-movie cheese and it succeeds at every turn. In fact, I had a better time watching The Meg than the last two Jurassic Park films put together. The film is self-aware and it delivers the thrills. The special visual effects are all the highest quality and the Megalodon's design was great. I loved the texture and color scheme of the beast. It had decrepit skin and chipped dorsal fins – it illustrated just how old it could potentially be. I appreciated those details.
As for the cast and the type of film they signed up for? They all had a ball. It was an ensemble cast. Jason Statham, Li Bingbing, Ruby Rose, Cliff Curtis, Longmire himself, Robert Taylor, and Rainn Wilson. I'm pretty much a fan of all of them and tossing them into this "meat grinder" of a film, well, fun and hijinks definitely ensued.
The Meg's story of book to film history is a fascinating and long one. It's been twenty years in the making. Steve Alten wrote the book in 1997 and it caused a bidding war and became one of the best films to never get made up until now. It lingered in development hell for so long that hope was given up many times before finally settling with the interests that have finally produced it. Alten himself kept busy by writing five more novels in The Meg franchise, so that's my main mission now – to seek those out and give them a read. The prologue to the first novel is amazing and I was bummed out that they didn't use it for the feature film. I remembered that Jurassic World "appropriated" bits of that in their own film.
In any event, if you have to see one film featuring prehistoric beasts this year then The Meg is the clear winner. No, it won't win awards for best picture or anything but the special effects and entertainment factor of it all will definitely cool you down during the summer heat wave. I will definitely be adding the Blu-ray to my collection. The Meg is recommended!
The Meg is in theaters August 10, 2018
Apelles Entertainment | Di Bonaventura Pictures | Flagship Entertainment Group | Gravity Pictures | Maeday Productions | Warner Bros.
Studios & Distributors
PG-13 (for action/peril, bloody images and some language)
Rating Certificate
Dean Georgaris | Jon Hoeber | Erich Hoeber | Stephen Alten (based on the novel
Writer
Summary
A scientist must save his crew stuck in a submersible from a prehistoric megalodon in this new twist on the summer shark attack horror featuring Jason Statham and Li Bingbing. flick. The Meg is good fun. It's not all that "deep," so have a cool drink and enjoy the deep-sea adventure. It features a great ensemble, production design, and awesome visual effects. The Meg is a fun summer treat!
What people say... Login to rate
Be the first to leave a review.
Show more