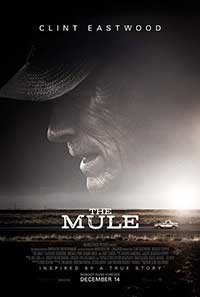 I have been eagerly awaiting The Mule since its shooting wrapped up this past summer in my adopted hometown of Augusta, Georgia. Writer/director Clint Eastwood who plays 87-year-old Earl Stone, a character based on the real-life octogenarian drug "mule" Leo Sharp, has taken up playing racist curmudgeons (Gran Torino) in the twilight of his long film career. To strengthen the critical reception of this movie, Eastwood has stacked the deck with some pretty big Hollywood names—Bradley Cooper, Michael Peña, Andy Garcia, Laurence Fishburne, and Dianne Wiest—but would this supporting cast be enough to carry this film successfully across the finish line? Unfortunately, my answer to this question will come as a rather resounding no.
Stone is a florist whose specialty is growing his own daylilies, but his continual sales trips have estranged him from his wife Mary (Wiest) and daughter Iris (Alison Eastwood). The only family member that still cares for him is grand-daughter Ginny (Talissa Farmiga). Twelve years have now passed, and Stone has finally lost his business and house due to stiff competition from Internet flower retailers.  He just manages to attend Ginny's bridal shower where he meets Rico (Victor Rasuk), a friend of one of Ginny's bridesmaids. Rico directs Earl to some local cartel hirelings where he is seen as the perfect "mule" with a nondescript old truck and an impeccable driving record.  Earl's first drug transport gig succeeds and brings him enough money to buy back his house and garden. After a few more successful cocaine transports, he acquires a "handler," Julio (Ignacio Serricchio) who works for cartel boss Laton (Andy Garcia) to ensure that Earl keeps on schedule. Earl's nice take-home pay serves to resurrect the local VFW chapter clubhouse and to cover the open bar expenses at Ginny's wedding.
Back in Chicago, DEA Special Agent in charge (Laurence Fishburne) gets top-down pressure to crack the Mexican drug trafficking ring and make some high-profile busts. He puts newly arrived agent Colin Bates (Cooper) and his assistant (Peña) on the case but they make little progress in tracking down the drogistas.
Now sporting the nickname "Tata," Earl enjoys an "all-expenses-paid" weekend, complete with buxom female escorts, at Laton's lavish Mexican hacienda. With abundant foreshadowing, you just know that being a drug mule has got to be a risky job and, with the DEA in hot pursuit, this could spell big trouble for the old-timer.
Nick Schenk's script, based on a New York Times feature article by Sam Dolnick, is pretty much a paint-by-numbers account of the drug-trafficking trade minus most of the graphic violence that usually permeates such films.  Eastwood gives a sympathetic and occasionally humorous portrayal of an old man far out of his comfort zone but he overuses the "generation gap" trope at nearly every opportunity. Usually a pro at pacing his films, Eastwood allows the pulse of The Mule to droop like Stone's daylilies at the end of their appointed day, making it seem a good bit longer than its two-hour running time.  Laurence Fishburne and Bradley Cooper are given stock central casting roles that are mercifully brief and provide relatively little interest while Dianne Wiest gets the thankless part of the bitter ex-wife. The big (and only) heart-tugging moment comes when Earl suddenly departs from the cartel's itinerary to visit his terminally ill wife—a move that predictably puts him in the drug dealers' doghouse.
While I thoroughly enjoyed taking in some familiar sights of Augusta, this film, its racist elements aside, will not go down as one of Clint Eastwood's finer moments either as an actor or director.  Perhaps, the time has come for this Hollywood legend to pack it in and ride quietly into the sunset.
The Mule is in wide release in theaters December 14, 2018 (USA)
---
Warner Brothers | Imperative Entertainment | Bron Creative | Bron Studios | The Malpaso Company
Studios & Distributors
R (for strong language and brief sexuality/nudity)
Rating Certificate
English | Spanish
Language
Summary
Possibly famed actor Clint Eastwood's cinematic swan song, this film has an uninspired script based on the story of a real-life 80+ year-old drug mule that even this Hollywood legend's best efforts cannot overcome.
What people say... Login to rate
Be the first to leave a review.
Show more