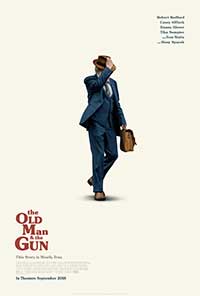 This "mostly true" story of legendary bank robber Forrest Tucker will be Robert Redford's last film, after he announced his retirement from motion pictures. The Old Man & The Gun opens in 1981, two years after the 70-something Tucker (Redford) had escaped from San Quentin Penitentiary. Tucker is not your typical bank robber as he enters the bank's lobby wearing a hat, a coat and tie, and a "hearing aid" that is the earpiece of a modified police-band radio, before he shows the teller his holstered gun and politely asks for the money.
After a recent caper, Tucker eludes the police by pulling off the highway to assist an elderly woman (Sissy Spacek) whose truck has overheated.  This "meet cute" moment  leads to the budding romance between these two seniors in which  the widow Jewel, a ranch owner, is blissfully unaware of Forrest's real name or occupation until he is finally caught and incarcerated for the seventeenth time. Forrest teams with two other elderly ex-cons, Teddy (Danny Glover) and Waller (Tom Waits), to carry out "The Over The Hill" gang's growing series of bank robberies. This gets the attention of the Texas police, particularly Dallas Detective John Hunt (Casey Affleck) who subordinates his family- wife Maureen (Tika Sumpter) and their children (and real-life siblings) Abilene (Ari Elizabeth Johnson) and Tyler (Teagan Johnson)-to his ongoing investigation.
The cat-and-mouse game between Detective Hunt and Tucker actually began at the The Old Man & The Gun's start when the police officer and his kids are at a bank that the oldster has just hit. It continues as Tucker leaves him a personally addressed hundred bill at a crime scene and then continues when they later cross paths in the men's room of a diner that both frequent. Rather than becoming routine cops-and-robbers adversaries, both men develop a relationship that, while not exactly a bromance, demonstrates some mutual respect for the diverse paths that each has chosen.
The Old Man & The Gun thankfully does not glamorize a life of crime as did the Dillinger biopic that Forrest and Jewel watch on their movie date. Much in this film is understated like the affection between Tucker and Jewel that comes across in the naturalness of their dialogue and body language. Dallas-based writer/director David Lowery has a good feel for the everyday people of the Lone Star State like those working in the banks that Tucker continues to rob. He has worked previously with Casey Affleck  and extracts a great low-key performance from this Oscar-winning actor. Film composer Daniel Hart has also worked with Lowery on several films and delivers a post-romantic score that is, in its simplicity, both gentle and, at times, quite moving.  While the subject of senior citizen bank robbers (Going In Style) is not novel, it receives sympathetic and occasionally humorous treatment, in stark contrast to more recent films like Hell or High Water that emphasize the violence involved in serial bank robberies. The Old Man & The Gun is an unpretentious film that tells a good story and succeeds in making viewers really root for Tucker and company to continue to elude the police.  If, in fact, this is Redford's farewell to films, he has gone out on a high note and I, for one, will miss him.  Highly recommended.
The Old Man & The Gun is in wide release in theaters October 19, 2018 (USA)
Conde Nast | Endgame Entertainment | Identity Films | Sailor Bear | Wildwood Enterprises | Fox Searchlight Picture
Studios & Distributors
PG-13 (for brief strong language)
Rating Certificate
28 Sept. 2018 (limited) (USA)
Release Date
Summary
Robert Redford makes a final film and goes out on top in this film based on the true story of septuagenarian prison escapee and bank robber Forrest Tucker (played by Redford). A well-crafted and understated account of the notorious 70-something bank robber who has had a long life of crime, successfully broken out of jail numerous times and finds a loving relationship near the end of his crime spree.
What people say... Login to rate
Be the first to leave a review.
Show more