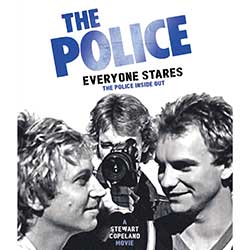 For the first time on Blu-ray Stewart Copeland's documentary, Does Everyone Stares: The Police Inside Out, culled from over 50 hours of his personal Super 8 footage of The Police while touring, recording, travelling and generally hanging out with his bandmates from the late 1970s to the early 1980s arrives from Eagle Rock Entertainment. Narrated by Copeland himself in a frank and often comical, conversational manner, the documentary tells the story of the The Police and their rise from the slightly too old, too musically polished, rising British punk scene outsiders to the heights of global rock stardom before finally inter-band squabbling, pressures of constant touring, and artistic differences (read: Sting dominating the songwriting and arrangements) lead to their breakup.
For fans of this power trio, Everyone Stares does provide lots of behind-the-scenes footage and snippets of their familiar hits and even if much of the story has been told elsewhere over the decades, it's still quite enjoyable to see and hear it play out so authentically with the historical footage to prove it all. Of particular interest is the scene of the band filming the music video for "Da Doo Doo, Da Daa Daa Daa" in which Copeland's status as band documentarian with his Super 8 camera is incorporated into the video – history in the making.
The Police: Everyone Stares — The Police Inside Out it out on Blu-ray May 31, 2019 from Eagle Rock Entertainment
---
Eagle Rock Entertainment
Studios & Distributors
31 May 2019 (Blu-ray)
Release Date
Summary
Drummer for The Police Stewart Copeland culls this intimate look at what was one of the biggest rock bands in the world in the late 1970s to early 1980s from over 50 hours of his personal Super 8 footage and narrates the story of their beginnings and untimely ending. The documentary appears for the first time on Blu-ray 5/31/2019.
What people say... Login to rate
Be the first to leave a review.
Show more